4 January 2017
By Elaine Murphy
elaine@TheCork.ie
Time to get tough with drink drivers – Clune calls for alcohol interlocks to be fitted to the cars of repeat drink drivers.
6500 lives lost on EU roads to drunk drivers every year
Ireland South MEP and member of the EU Transport committee Deirdre Clune has said she is extremely concerned at the spike in road deaths in 2016 and also the increased number of arrests for drink driving offences. She said it is time we followed countries like Belgium, the Netherlands, France, Sweden, Denmark and Poland in introducing a system of alcohol interlocks for repeat drunk drivers.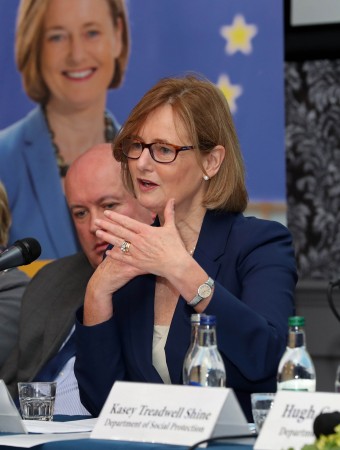 Alcohol Interlocks are automatic control systems which are designed to prevent driving with excess alcohol by requiring the driver to blow into an in-car breathalyser before starting the ignition. The alcohol interlock can be set at different levels and limits but not by the driver. Most countries who use the programmes use both mandatory court imposed interlocks but also voluntary where someone convicted of a drink driving offence may opt to install and pay for an alcohol interlock in exchange for a lesser fine or driving ban.
According to the European Transport Safety Council, repeat studies have shown that alcohol interlocks have reduced repeat drunk driving offences. One Finnish report published in 2013, and based on four years of data, showed a recidivism rate of 6% when interlocks were used compared to the usual 30% rate in Finland.
A review of recidivist drink drivers in Ireland from 1 January 2008 to 23 September 2012 was carried out by an Garda Síochána showed that…
· There were five offenders with 10 or more offences detected
· There was one individual linked to 26 drink driving offences.
· There were another 145 offenders linked to 5-9 incidents of drunk driving.
Speaking as official Garda figures show a 34% increase in arrests for drink driving this Christmas, the Ireland South MEP said that studies show that alcohol interlocks prevent drunk drivers from re-offending but also act as a deterrent to drinking and driving.
"The Government's Road Safety Strategy 2013-2020 requires Ireland to undertake a cost benefit analysis for the use of alcohol interlocks as a sanction for repeat offenders. The Road Safety Authority is currently examining this option and has reviewed the relevant available literature. A cost benefit analysis is in progress. I will be calling on Minister Shane Ross to look seriously at the introduction of alcohol interlocks.
"187 people have lost their lives on our roads in 2016. That is 25 more than in 2015. That is completely unacceptable.
"Any expense that comes with fitting an alcohol interlock should be met by the convicted drunk driver. Maybe a judge could look at a more lenient fine or driving ban if the convicted person offered an interlock option.