10 May 2017
By Tom Collins
tom@TheCork.ie
Minister for Agriculture, Food and the Marine, Michael Creed, TD, last month unveiled a range of supports to assist farmers in making their 2017 Basic Payment Scheme (BPS) application online.
The Minister stated "the recent growth in the number of online BPS applications shows that increasingly farmers are finding that the best way to apply for vital schemes such as BPS and ANC is online. Online applications offer a range of benefits for farmers which also help my Department to issue these vital payments more efficiently."
Under EU Regulation, 100% of BPS applications will be required to be online by 2018. Last year a range of supports were offered to farmers and similar initiatives will now be in place as the 2017 BPS application deadline of 15th May approaches.
The Minister added "I am now putting in place a range of initiatives aimed at making it easier for farmers to gain the benefits of online application. In particular, I have asked staff in my Department to be available to meet with farmers on a one-to-one basis in various locations to assist them in making their applications."
Minister Creed personally met with farmers recently in Macroom.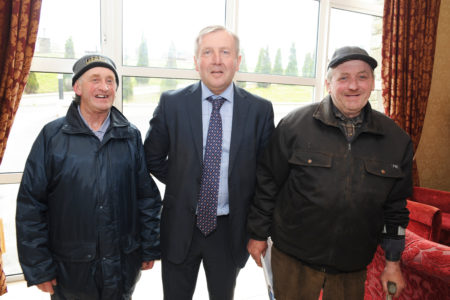 Minister for Agriculture Michael Creed TD, with Macroom Farm Brothers John and Jimmy Aherne – pictured at the Guide to Completing Your Basic Payment Scheme Application Forms – at The Riverside Park Hotel, Macroom, Co Cork