12 May 2017
By David O'Sullivan
david@TheCork.ie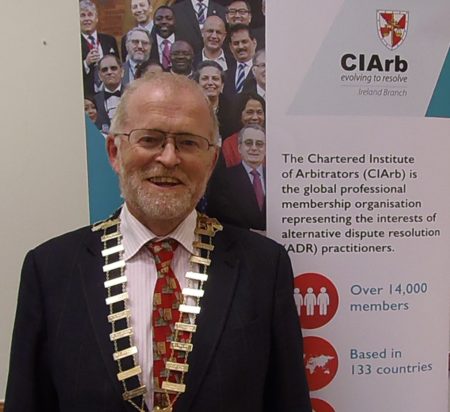 Cork based solicitor, Bill Holohan, Senior Partner of Holohan Law solicitors, Cork & Dublin, has been elected as Chairman of the Chartered Institute of Arbitrators, Irish branch, for the coming year.
Bill Holohan is an award-winning lawyer and alternative dispute resolver. A Fellow of the Chartered Institute of Arbitrators for over 20 years he has been a member of the Institute for over 30 years. He is also an Accredited Mediator having been accredited by both the Chartered Institute and CEDR (the Centre for Effective Dispute Resolution, London). In recent years, he has served as Secretary, Treasurer and Vice Chairman of the Chartered Institute. A serving member of the Executive Council of the Mediators Institute in Ireland he is also a member of the Law Society Alternative Dispute Resolution Committee. In 2013 he was awarded the Irish Law Awards Award for "Mediation, Arbitration & Disputes Resolution Lawyer of the Year".
CIArb is an international centre of excellence for the practice and profession of alternative dispute resolution (ADR). The Irish Branch consists of more than 650 professionals interested in and involved in dispute resolution being drawn from a wide variety of disciplines including academics, accountants, architects, auctioneers, barristers, engineers, quantity surveyors, solicitors, surveyors, and others.
The Institute provides education and training for adjudicators, conciliators, arbitrators, and mediators and adjudicators. It also acts as a global hub for practitioners, policy makers, academics and those in business, supporting the global promotion, facilitation and development of all ADR methods.