27 November 2017
By Bryan Smyth
bryan@TheCork.ie

Known as "the Rebel City," Cork City is one of the most exciting places to visit in the country. Here you'll find a local population steeped in both culture and tradition. Many in Cork jokingly consider the City to be the "Real Capital" of Ireland. If you want to get away from the tourist masses in Dublin, then a weekend in Cork City is the ticket.
In a vibrant city such as this, there are dozens of things to occupy your time. So, what's the best way to spend your day? Well, if you only have a day to spend, then you haven't really thought through your trip to the capital of the South. However, if you have no other option than to cram it all into one day, then follow our plan and experience the Rebel City like a true local.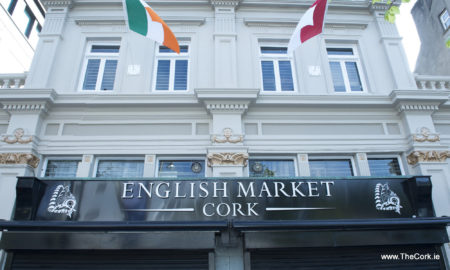 First things first, it's time for breakfast. Head for The English Market, which opens up daily at 8 a.m. Here you'll find a covered food court where you can sample the true delights of a full Cork breakfast! Once you've satiated your hunger (and you really will), it's time for some art in one of the country's finest public buildings, the Lewis Glucksman Gallery. It's a nice spot to enjoy some art and let your food settle before you start your day in earnest.
The gallery is located by the University College Cork campus, which is an impressive sight. It's a 170-year-old building that has stood the test of time, and if you're there during summer, it's deserted so you can wander the campus at your leisure. Now at this point, you shouldn't be too hungry, after all, you did have that big breakfast, so you can take a walk down to Saint Fin Barre's Cathedral, which is home to the largest church organ in Ireland. There's even a cannonball on display from the Siege of Cork in 1690.
Okay, there's no putting it off any longer; you're going to need some lunch, so pop into the local Quay Co-op. It has an organic health food shop on the ground floor and you'll find a fine restaurant on the first floor. The food is freshly prepared and delicious. You simply can't visit the city and miss a meal at this place.
Cork City is also home to the former Beamish and Crawford brewery, but unfortunately, you can't tour the site, as its in the process of being demolished for a long awaited events centre. However, you can visit the Franciscan Well Brewery, which is a vaulted pub built on the site of an old monastery. It's lively in there in the evening, but if you go a little earlier in the afternoon, then you should be able to explore the place in comfort and enjoy a pint or two of their signature craft beer Rebel Red.
After your drink in the brewery, it's time to walk off a few calories, and what better way than a walk along the banks of the River Lee. The riverside walk, which runs the length of Carrigrohane Straight Road, is a lovely, scenic walk and surprisingly, a quiet and relaxing one considering that it's a city bustling with life. It's a two-mile walk, but you can take your time and walk as far as you like.
The last sightseeing trip before dinner should be a quick trip to Elizabeth Fort. Here there are guided tours that tell you a little more about the city's history, but it's the views of the city that really impress up here. Here you could spend hours walking the walls and taking some perfect holiday snaps but don't spend too long here; we have a couple more places to go.
As evening approaches, it's time for dinner. But why head to a regular restaurant when you can dine at the rather fancily-named Macau Casino & Restaurant Complex. Here you can enjoy a meal at the Mint Restaurant before hitting the tables and enjoying a game of poker or blackjack or even spend some time on the slots. But before you go, make sure you know your etiquette and don't break any rules while on the felt.
And last but certainly no means least, is a trip to a trad session in a local pub. Now, these could take place anywhere in the city, so your best bet is to check the Lee Sessions website for details about where you find some live music in your night in Cork. It's the perfect way to end your 24 hours in the Rebel City, but in all honesty, you'll need to come back for more. One day just isn't enough.
Follow TheCork.ie (The Online Newspaper for Cork, Ireland) on social media