10 January 2018
By Elaine Murphy
elaine@TheCork.ie
The Minister for Agriculture, Food and the Marine, Michael Creed TD (Fine Gael), today announced that the value of Irish food, drink and horticulture exports increased by 13% in 2017, to reach €12.6 billion for the first time. The figure increase to €13.5 billion when non-edible products such as forestry are included.
Speaking at the launch of Bord Bia's Export Performance and Prospects 2017-2018 report, the Minister said "last year marked the 8th successive year of growth for total Irish agri-food exports, to reach a record of €13.5 billion*. Bord Bia's report provides valuable insights into the sectors and markets behind the very welcome 13 percent increase in the value of food and drinks exports to €12.6 billion. Industry, in line with my Department's market prioritisation strategy, is continuing to diversify, with exports to international markets reaching €4 billion for the first time. Trade with the UK, which remains our most valuable market, has grown in overall terms, despite the difficulty presented by Brexit and a weaker sterling."
 "I am pleased that the significant additional resources provided by my Department to Bord Bia as a key part of our Brexit response has helped to support Irish food and drink company's export performance in 2017, as evidenced by these results, and will continue to do so into the future" added Minister Creed.
 According to the Bord Bia report, last year's export performance was driven by a surge in dairy exports to over €4bn (+19 percent), now one third of all food and drink exports, as well as continued buoyant sales of Irish beef, up 5 percent, which represents a fifth of all exports at almost €2.5bn. Notable growth was also recorded for prepared foods (+17 percent to €2.2bn) and beverages (+8 percent to €1.5bn).
Speaking at the launch, Bord Bia CEO, Tara McCarthy, emphasised how increased volume in our key export sectors, combined with strong market returns, helped boost trade throughout 2017. "In terms of yearly growth rates, the dairy sector grew by almost 20 percent to reach €4.02 bln, confirming its position as the number one exporting sector. Within the dairy sector, the value of Ireland's butter exports rose by a remarkable 60 percent this year alone, to reach €879mln. This growth accounted for over half of the total increase in dairy exports. Notwithstanding its impact on the overall export figures, it is worth noting that increased export volumes recorded for both beef and dairy also played a pivotal role in this year's export performance. Pigmeat and sheepmeat also recorded increased volumes, at 3 and 14 percent respectively."
On a more cautionary note, Ms. McCarthy also highlighted the currency risk that remains for all sectors especially those such as horticulture and prepared consumer foods** that are hugely dependent on the UK market. "Sterling volatility, combined with slower economic growth, food inflation and lower wage forecasts, will put further pressure on the UK market as an export destination. While the UK remains our most important market, these prospects provide an additional incentive for Irish exporters to explore new markets within the EU26 and beyond."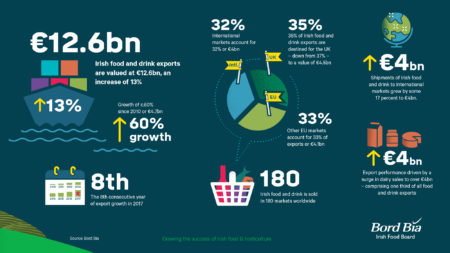 To that end, in recent months, Bord Bia, supported by the Department of Agriculture, Food and the Marine, has collaborated with the agri-food industry to develop a more data-led, strategic approach to export diversification and market prioritisation. "Trading in the international marketplace has been a strengthening component of our industry over the last decade. However, Brexit has, of course, placed a new urgency around diversification for many exporters. We believe we are starting a new chapter in the development of Ireland's largest indigenous industry and we recognise that Irish exporters require higher levels of consumer insight, market information and understanding to successfully enter, and more importantly grow, in any international market. The longer-term outlook is positive and Bord Bia's focus now is to put the infrastructure in place to ensure Ireland's agri-food industry is best informed, best positioned and best prepared to avail of all possible opportunities that will arise." 
Overview of Irish Food & Drink Exports
In addition to the dairy surge, pigmeat, seafood and beef all recorded strong results, with 14, 16 and 5 percent growth respectively. At a lower level in absolute terms, live animal exports also registered a big lift in sales for the year, while prepared foods (+17 percent) and beverages (+8 percent) also performed well. Edible horticulture and poultry had the lowest levels of uplift – constrained by price sensitivity and volume.
The UK remains Ireland's key export market, however the percentage share of exports to the UK declined by two points to 35 percent of total exports. This reduction disguises the fact that sales still increased for the year by 7 percent to over €4.5bn.
Exports to other EU countries have risen by 16 percent to over €4bn accelerating last year's growth, mainly driven by strong dairy exports, which rose by over 40 percent to €1.2bn, as well as enhanced growth for seafood and pigmeat sales, and a continued strong presence of beverages and prepared foods.
Meanwhile shipments of Irish food and drink to international markets grew by 17 percent to exceed €4bn for the first time. These are driven by strong sales of dairy products in North America, Africa and Asia, and beverages which performed well in North America. Dairy accounts for some 45 percent of all sales to international markets, while beverages represent some 19 percent of total international exports. Further expansion was recorded in the Middle East, Asia and Africa, while the United States which recorded robust growth levels to exceed €1bn for the first time. Elsewhere, exports to China, driven principally by dairy and pigmeat, grew by 5 percent for the year to €700mln.
Looking Ahead to 2018
Bord Bia CEO, Tara McCarthy, remains optimistic about the industry's prospects for the year ahead. "While Brexit remains the great unknown, we still expect 2018 to be another year of growth, albeit at lower levels. Our key export categories, dairy and beef, remain stable with further volume growth anticipated. This coupled with the significant opportunities evident in beverages, in particular Irish whiskey, provide further reasoning for the positive outlook."