5 January 2019
By Mary Bermingham
mary@TheCork.ie
The Workers' Party has called for major NAMA owned land banks suitable for housing to be given to local authorities along with funding for the construction of public housing.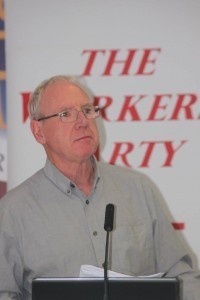 Workers' Party Cork Cork City Councillor, Ted Tynan, said that the sale of 43 acres of prime housing land near Douglas on the Southside of the city to a private development company, Glenveagh, was "the wrong decision" and would net the company revenues of upwards of €84 million at a time when the provision of genuinely affordable publicly provided housing should be the priority.
Cllr. Tynan said that instead of acting like a private company with large land banks to sell off, NAMA should instead be instructed by the government to make significant land banks available to local authorities such as Cork City Council and its County Council counterpart.
He said: "NAMA represents the blood, sweat and tears of Irish workers and their families who were punished with severe austerity in order to bail out greedy banks and housing moguls. NAMA was a lifeboat for the developer class and the lands it has amassed in the process of bailouts should be used to deliver large numbers of publicly built, mixed income homes for those who most require them"
Follow TheCork.ie (The Online Newspaper for Cork, Ireland) on social media