22 May 2019
By Bryan Smyth
bryan@TheCork.ie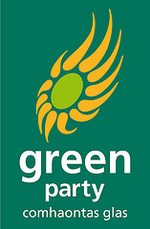 The Green Party in Cork has called in voters to have hope for local democracy and back the Yes campaign for a directly elected mayor on Friday.
Speaking as the campaign entered the last day before polling, Oliver Moran, the Green Party candidate for the Cork City North East ward and spokesperson on political reform said:
"The greatest challenge this campaign has had to overcome is a sense of 'anti-politics.' Decades of austerity politics. The abolition of town councils. The stripping of local government of its powers. People no longer having a sense of the potential of local government. Or expect the worst of it. And anyone who can see the potential sees the very low base we're starting from.
"And yet that's exactly the reason I'm sticking in this fight. Because we're pro-politics. And for the first time I can remember, we have a proposal to actually invest in local democracy. To give people power. To have accountability.
"It's a chance. The chance for something better. To believe in the republic. To have hope for local government. And hope is worth fighting for."
Follow TheCork.ie (The Online Newspaper for Cork, Ireland) on social media