29 June 2019
By Roger Jones
roger@TheCork.ie
If you have not yet head about GambleRock, well, you have now and you will likely be hearing much more about them in the future. The website is fast becoming one of the more active gambling forums on the i-Net.
GambleRock.com is host to the i-gaming industry's latest community of gamblers, gaming affiliates, online bookies, poker rooms and virtual casinos. Online gambling affiliate programs can sign up and share their affiliate program offers with the community of casino affiliates and gambling webmasters. Affiliates are able to build business profile pages for their websites on GambleRock and market their latest gambling content to the community members using the site's robust WordPress blogging software. Online casino players will find a list of the top 10 ranked casinos for gambling from your computer. Gamblers that have a complaint with any particular bookmaker or casino site can share their issues in the complaints forum. There are a lot of good features like status updates, member profiles, friends, topics, gambling forums and private messages.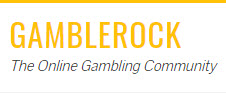 GambleRock is more than a forum for gamblers, webmasters and online gambling sites. They are also a quality resource for players looking for honest reviews of trustworthy casino sites. GambleRock updates their list of approved casinos every month so you can gamble comfortably with licensed betting websites. The latest addition to the website is the new section specifically dedicated to casinos for US players. Gamblers in Ireland, all the UK and Europe will also find guides to the top-ranked online casinos based on the country where players are located. In addition to these International gaming markets, GambleRock has been expanding into Canada, New Zealand, India and South Africa as well.
Information about online sports betting websites can be found in the GR sports gambling forum. While betting on sporting events has been regulated and legal in the UK since the Gambling Act of 2005. This was two years before the Gambling Commission (UKGC) was formed in 2007 to oversee the regulating of online betting sites. Meanwhile, in the United States, for years the U.S. Government was taking the position that sports betting was illegal based on the Federal Wire Act of 1961. However, that was overturned last year when the Supreme Court overturned the ruling stating that it only applies the Intrastate bets. These developments have been paving the way for legal sports betting in the USA. Now that the U.S. Supreme Court decided to allow states to legalise sports betting there is a fast rush into the United States market by some of the world's most established online bookmakers.
Go to gamblerock.com to find the net's best online casinos and discover top-rated sport betting websites. They have extremely high standards as to which gaming sites can be listed in their top 10 lists. Gamble from your computer or mobile phone at the most trusted gambling websites. Its free to join GambleRock.