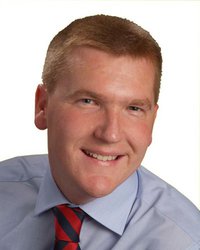 Cork South Central Fianna Fáil T.D. Michael McGrath has been informed by the Minister for Finance Brian Lenihan T.D. that a group will be appointed shortly to review the remuneration packages of the chief executives of commercial state-sponsored bodies.
Minister Lenihan was responding to a parliamentary question submitted by Deputy McGrath. Deputy McGrath had also raised the matter on an adjournment debate earlier this year.
Deputy McGrath said it remains his view that some chief executives of commercial semi-state companies 'enjoy grossly excessive remuneration packages which are way out of line with the market realities of 2010'.
'In view of the fact that the last review of chief executive remuneration in the commercial semi-state sector was in 2007 when Ireland was a very different place indeed, I believe this review should be held immediately', stated Deputy McGrath.
'There are several chief executives of commercial state-sponsored bodies with remuneration packages of between €300,000 and €600,000 per annum. This is unjustified in my opinion, and I believe the Minister needs to act swiftly to bring these packages to a much more realistic level to reflect the economic challenges we face as a country,' concluded Deputy McGrath.