18 June 2016
By Bryan T. Smyth
bryan@TheCork.ie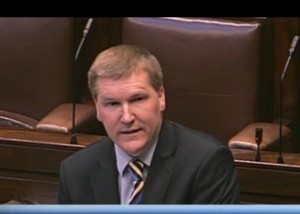 "There is no evidence that increased payouts on claims is the reason behind the spiraling cost of motor insurance", that's according to Fianna Fáil Spokesperson on Finance Michael McGrath (Carrigaline, Cork Southj Central), who has repeated his party's call for a Task Force to be established to tackle the problem.
Deputy McGrath was speaking following receipt of a parliamentary reply which shows that insurance companies paid out more in 2011 and in 2012 than they did in 2014 despite the industry consistently citing the increased number and cost of claims as the main reason behind a 60% increase in premiums since 2014 and a 35% increase in the past twelve months.
Deputy McGrath commented, "While we do not yet have figures for the amount paid out on claims in 2015, the data to the end of 2014 does not substantiate the assertion by the industry that motor insurance claims are the main reason behind rocketing premiums. In fact, the amount paid out in claims in 2014 was 36% less than the amount paid out in 2011. This makes it all the more important that the actions set out in a recently agreed Dáil motion on motor insurance, initiated by Fianna Fáil, are implemented without delay.
"We strongly believe that a new Task Force, along the lines of previously successful Motor Insurance Advisory Board, needs to be established to identify the real reasons why premiums are rising at an unsustainable rate and to make recommendations to deal with the problem. Escalating premiums are now a major financial problem for private motorists and for thousands of businesses across the country. Motorists are now typically paying several hundred euro more in their annual premium than they were in 2014.
"There are many factors that need to be examined by this Task Force including fraudulent and exaggerated claims, legal costs, insurance regulation, consumer protection measures, the role of the Injuries Board and the need for a national claims register. Fianna Fáil will be holding the government to account in the Dáil on this issue and will be insisting on the full implementation of the motion agreed in the Dáil this month. It is simply not acceptable for the government to agree to the passage of Dáil motions and then do nothing to implement them."