18 November 2016
By Bryan Smyth
bryan@TheCork.ie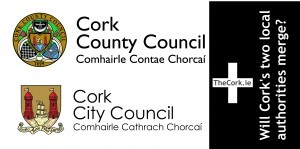 The Green Party has strongly criticized the appropriateness of appointments made by Minister Simon Coveney to a group set up to review the recommendation to merge Cork city and county.
The group, set up by the minister last month, is to review recommendations made last year to merge Cork city and county councils. That recommendation was controversially rejected by Cork City Council and local people in the city, leading to the review of its recommendation this year.
The five-person team appointed by Minister Coveney includes the former president and board member of Cork Chamber, Gillian Keating. Cork Chamber made submissions to last year's committee, while under Ms Keating's leadership, and lobbied for the merger of Cork city and county. The chairman of last year's committee and prominent proponent of the proposed merger, Alfie Smiddy, was also a board member of Cork Chamber at the time.
Minister Coveney also appointed Paul Martin, chief executive of the recently merged Richmond and Wandsworth Councils in the United Kingdom, as an external advisor to the group.
The Green Party points to both of these appointments as attempts by Minister Coveney to influence the direction of this year's review of last year's merger recommendation.
In a series of Dáil questions on the matter, the Green Party leader, Eamon Ryan, asked Minister Coveney for the means of selecting the members of the review group and for the minister to comment on their appropriateness.
On each occasion, Minister Coveney replied that, "I chose individuals who, in my view, have the necessary professional expertise in these areas and I included a mix of both national and international experts."
Speaking this evening, Green Party political reform spokesperson, Oliver Moran, who last year led a campaign in Cork calling for a local referendum on the matter, said:
"These appointments completely undermine confidence in the review group. You cannot seriously appoint somebody who headed an organisation that lobbied for a merger to a committee to review the recommendation for a merger. And the appointment of an external adviser with expertise in merging councils? The inappropriateness of these appointments are transparent. The minister should admit that, give up on this folly, and accept the minority report that recommended the expansion of the city boundaries."
The report of last year's committee included a minority report by UCC experts, Theresa Reidy and Dermot Keogh, who recommended against a merger and recommended instead for an expansion of the Cork city boundaries.
A UCC-sponsored independent review by Professor Tony Bovaird from the University of Birmingham was published last month and criticized the recommendation to merge the two councils and recommended in favour of the minority report.