1 July 2017
By Elaine Murphy
elaine@TheCork.ie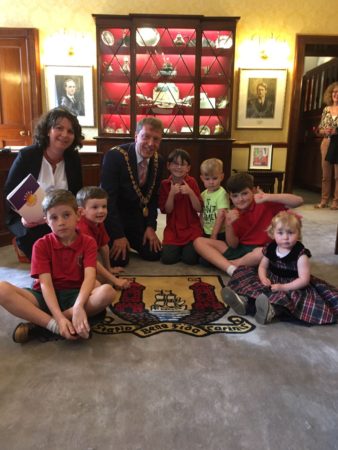 Cork City Lord Mayor, Cllr Tony Fitzgerald has launched a groundbreaking early intervention document which seeks to consolidate supports to parents from pregnancy through to the early years in primary school.
The Young Knocknaheeny Programme meet families during pregnancy, provides language programmes from 9 months and support childcare staff in early years settings and teachers in schools.
Through the Young Knocknaheeny Programme's work with partner organisations and direct work, 2,500 children will have benefited from its services by Christmas.
Launching 'Getting every child's life off to the best possible start: Prevention and Early Intervention for Early Childhood Development, Relationships and Environments', earlier this week, The Lord Mayor said: "In my year as Lord Mayor, I will be acknowledging the contribution of parents and services in making lives better for all children in our city".
The Lord Mayor has said " early intervention is vital so that every child's life can get off to the best possible start" and will visit pre-schools and creches as part of his education visits to schools.
Katherine Harford, Manager of the Young Knocknaheeny Programme, also spoke at the launch of the document.
"This is policy in action from the ground up. The Young Knocknaheeny Programme is tied to every government policy/strategy of the last 5-8years. We want outcomes for children which are better than ever before. It's a child's right to reach their potential to fully participate in society".
"We start at the very beginning. In pregnancy, we are privileged to meet families in their home, establishing relationships with them and in turn supporting their relationship with their baby. This is the key to building the necessary brain development, for social and emotional development as a key task for self-regulation, equal to physical development,
It doesn't stop there, our language programme introduces communication strategies with parents of babies at 9 months, we are assessing and supporting language development of every junior infant child in the area
We have supported our colleagues in Early Years Care and education settings, in their aim to become the best publically funded centres you can be. The transformation has been astounding.
We support teachers to have strategies for behaviour management, social and emotional development, language development.
We promote reflective practice, interagency collaboration and change. Ireland spends less on education, childcare and the first years of life than most other European countries," she said.