22 August 2017
By Tom Collins
tom@TheCork.ie
Topaz, Ireland's largest fuel and convenience retailer, has officially opened its newly redeveloped state-of-the-art service station at Whitegate Road, Midleton, Co Cork.
This is one of the closest service stations to Ireland's only oil refinery at Whitegate.
The opening of Topaz Lakeview welcomes 13 new jobs to the local area, bringing the overall workforce at the site to 30, following a full redevelopment of the facility.
With the newly refurbished Topaz Lakeview site, Topaz continues to show its commitment to bringing customers quality choices with the introduction of an innovative and varied retail and food court, which includes Topaz's renowned healthy 'food on the go' concept – Re.Store and its gourmet fish and chip restaurant 'the Good Catch.'
As well as featuring quality dining options in Re.Store and The Good Catch, Topaz Lakeview also features two key offerings from the Circle K Global portfolio in 'Simply Great Coffee' and 'Real Hot Dog.'
Recognising that great quality coffee continues to be a destination driver for Irish consumers, Topaz is committed to bringing its customers "Simply Great Coffee" every time. Expertly roasted to suit the Irish taste profile, Simply Great Coffee is part of a global coffee movement of 3,500, and growing, branded coffee destinations worldwide.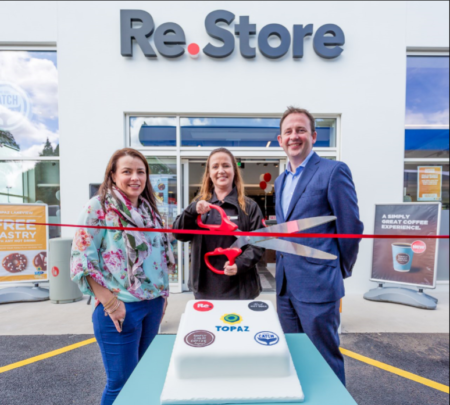 Lakeview is home to the 44th Simply Great Coffee hot beverage destination in Ireland and by the end of 2017, Simply Great Coffee will be served in 148 stores across the network.
Topaz is also known as 'Circle K Ireland', as the brand is owned by the Canadian controlled 'Circle K' Group.
Niall Anderton, Managing Director at Topaz commented: "We are delighted to be able to offer first class facilities and services to our valued customers at our Lakeview site and indeed across our network of over 430 service stations nationwide."
"Choice is key for us and this newly refurbished site features a range of market leading offerings which will ensure the preferences of each and every customer are met. The site has a fantastic offering featuring one of our latest concepts 'The Good Catch' serving gourmet fish and chips and it is particularly satisfying that our new site at Lakeview will see the introduction of 'Simply Great Coffee' and 'Real Hot Dog'. Both are two renowned offerings from Circle K and Irish consumers can look forward to further exciting offerings from Circle K in the future."
"I would like to take this opportunity to thank all of the staff here at Lakeview and congratulate all involved in the relaunch."
The service areas operate 24 hours a day, providing a full range of services to all road users day and night. There are in excess of 23 parking spaces, including disability parking spaces, generous truck parking, charging points for electric vehicles, coach parking, carwash, wifi access and toilet facilities.