2 December 2017
By Bryan Smyth
bryan@TheCork.ie
Last Christmas, an incredible €10,455.33 was raised by two very generous Cork families who lit up their homes and shared their displays with their communities over the Christmas holidays in aid of the Mercy Hospital Foundation.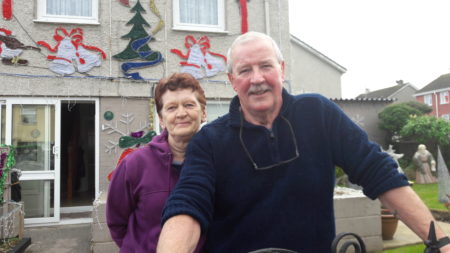 This year the Carey family from Youghal, are taking part once again and it is a festive spectacle not to be missed. Pat Carey's Christmas Light Show runs in Youghal from Saturday, December 9th until Women's Little Christmas on January 6th. The show will illuminate 25 Blackwater Heights, Youghal from 6pm to 9pm every night, and all donations made by those visiting the display will go to the Mercy Hospital Cancer Appeal. Visitors can expect lots of Christmas cheers, tasty treats and musical performances throughout the holiday season, and will have the opportunity to purchase tickets for the annual raffle supported by the local business community.
Supporting the Carey's fundraising initiative, on Saturday, December 16th Ceolta Sí will hold a wonderful night of music, singing, dancing and refreshments at Brú na Sí Cultural Centre in Youghal from 8pm, and tickets are €10 each.
Pat has been lighting up his house every Christmas since 2013 by putting on this spectacular Christmas Lights Show in aid of The Mercy, and in 2016 he received a Mercy Star and was named Volunteer Fundraiser of the Year in 2016 in recognition of his incredible fundraising efforts which have raised just over €14,000 for cancer services at the Mercy since he began his annual event.
Speaking about why he chooses to light his family home year after year, Pat Carey said "I was an oncology patient at The Mercy University Hospital and decided that lighting my house at Christmas was a way to give something back and thank the staff who gave me care that was second to none. I would encourage anyone who lights up their house at Christmas, and hasn't done so for a charity before, to bear the Mercy in mind and consider the real difference their support could make to lives."
Pat's Christmas light display will feature on Would You Believe? – The Secret of Christmas on RTÉ One, on Sunday, December 10th at 10.35pm. As well as that, in the lead-up to Christmas, across all media platforms, RTÉ offers its own Advent calendar, telling 24 different stories of the ways people across Ireland try to bring meaning and magic to the season, and on December 1st, the Carey's is the first story to be shared on rte.ie/Christmas.
The Mercy Hospital Foundation is urging other families across Munster to come on board and light up their homes for The Mercy this Christmas. Deirdre Finn, Campaigns & Community Manager, Mercy Hospital Foundation said "If you have a spectacular Christmas light display on your house we invite you to take a collection box and invite the people who come to see your lights to help raise funds for our Cancer Appeal."
She continued "Our mission is to inspire people to support advancements in research, diagnosis, treatments and care of patients at The Mercy University Hospital, the People's Hospital. We promise to do our very best to provide you with a world class hospital, right on your doorstep, and this is only possible through the help of our supporters and donors, through the help of our supporters and donors, like the Carey family, and supporters from all over Cork who join us for our annual Christmas Lights Appeal."
If you would like to find out more about putting on or fundraising through a Christmas light display in aid of the Mercy Hospital Foundation, please contact Deirdre Finn on (021) 4274076. Further information on The Mercy Cancer Appeal is available on www.mercyfundraising.ie.