16 December 2017
By Elaine Murphy
elaine@TheCork.ie
Caroline Casey has been awarded the Road Safety Authority Leading Lights 'Road Safety Officer' award for 2017. The award was presented to Caroline by RSA Chairperson Liz O'Donnell at the RSA's 10th annual 'Leading Lights in Road Safety' Awards in Croke Park.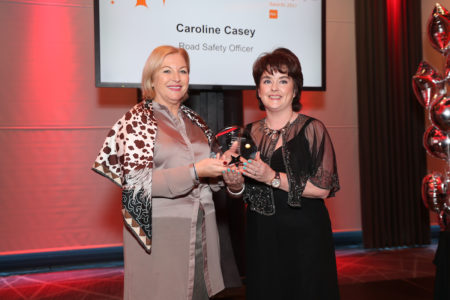 Caroline Casey is the Cork County Council Safety Officer. She is very active at every level from pre-school to post-primary and with the public in general. She completed a HDip in Coaching & Coaching Psychology in University College Cork (UCC) this year. Her research project was based on safety education for children & taking the coaching approach.
The coaching approach to safety education is an empowering experience for the children giving them the opportunity to participate in the process of creating new knowledge and
A total of 24 individuals and organisations were honoured for their commitment and dedication to road safety at the tenth annual 'Leading Lights in Road Safety' Awards which were presented by RSA Chairperson Liz O'Donnell and RSA Chief Executive Moyagh Murdock in Croke Park today. MC for the day was RTÉ News Correspondent Teresa Mannion, with awards presented in categories including media, education, business, emergency services and public sector.
Minister of Transport, Tourism and Sport, Shane Ross TD said: "Congratulations to everyone who received an award today and on behalf of all road users, thank you for your commitment and dedication to making our roads safer."
Liz O'Donnell, Chairperson of the RSA presented the awards, saying: "Road safety is about making the roads we share with our family, neighbours, friends and colleagues a safer place. It's about keeping our local communities safe. And that's why we are recognising the great work being celebrated here today. Work that is helping to make communities right across the country safer for all. Work that is making a difference and saving lives."
Moyagh Murdock, Chief Executive of the Road Safety Authority said: "We received over 160 nominations across the Leading Lights awards categories this year. The high quality of projects being entered meant that is was the toughest year yet to pick winners. I'd like to commend those who sent in nominations, who recognised Leading Lights in their school, office or community, who are making a difference, and put them forward for awards. It is thanks to them that we hear about the great work being done around the country to promote road safety."
Richard Alcorn who survived a road traffic collision in 2006 and now gives his time freely to delivering road safety messages, was named as the Road Safety Authority 'Gertie Shields Supreme Award' winner. The Supreme Award is selected by the judges from one of the category winners.
In 2006, Richard Alcorn was involved in a very serious road traffic incident near his home town of Dunfanaghy, Co Donegal. He lost an arm, broke his neck, shattered his pelvis and broke both hips. He has battled to overcome his horrific injuries and has taken on a new role, advocating for road safety.
Richard delivers the road safety message to young people in Donegal, Mayo, Cavan and Kildare at events including Donegal County Council's Road Safe Road Show, held annually in Letterkenny, Co. Donegal. Richard has given his time freely and is always available to assist any group helping to promote road safety awareness. He is an example that there is a life after a serious road traffic collision.
This year, 'Leading Lights in Road Safety Awards' were presented in the following categories: Education (Preschool, Primary, Secondary, Third Level, Community), Business, Emergency Services, Local Media, National Media, Road Safety Ambassador, Public Sector, CPC Training Organisation of the Year, CPC Trainer of the Year, Approved Driving Instructor (Car, Bus, Motorcycle), Future Award, and 'Special Recognition'.