28 March 2019
By Mary Bermingham
mary@TheCork.ie
"The Squad", which is one of Cork's best known fitness operations has expanded to a bigger premises as well as addition additional services to its offerings. In addition to offering personal training and classes, The Squad is now offering pay-as-you go membership to it new and existing customers.
The Squad was set up 16 months ago by Josie McCarthy and Kate Parfrey, who met at a personal training course. It now has close to 100 members and has five employees. Over the coming year they are hoping to expand further by introducing a range of wellness services for customers.
The Squad uses an app for all of it's bookings, which is available on the Glofox platform. It is open for membership to male and females of all ages.
Kate said: "We want to create a community here at The Squad and we want to ensure that everyone who trains with us feels part of the team here. We always try to make ourselves available to talk to our clients and provide hands on care. The main goal we see for someone who wants to join The Squad is not about losing weight but about enjoying life again. We have one class that is called the Trump class and that is very popular."
"We want to continue to develop the business and we are looking at a range of wellness offerings for clients so that we will be a one-stop-shop for lifestyle management."
Josie said: "Our personal training sessions at The Squad are the best in the business. Along with a one to one 40 minute session, you will also be provided with tailored nutritional advice and guidance and assessments. Our goal is simple. We want to help you reach yours. At The Squad we provide a friendly, home from home atmosphere and we love expanding our Squad and our team."
Two people who have used The Squad over the last year are Sea Box Group Managing Director, Patrick Hogan and teacher, Louise O'Callaghan.
Patrick said: "Thanks to The Squad I have lost over two stone over the last six months and I am down three sizes. Since losing the weight I have become more motivated in business and I feel great. I am up earlier and I have a lot more energy. "
Louise said: "I play a lot of GAA and wanted to train when it was raining so I came across The Squad and they are like a family.
The new gym is located at Unit 4, Richfield Business Park, Ballycurreen, Cork.
Opening Hours are: Monday to Thursday, 6am to 9.30pm, Friday 6am to 8pm, Saturday 8am to 6pm and Sunday 9am to 5pm.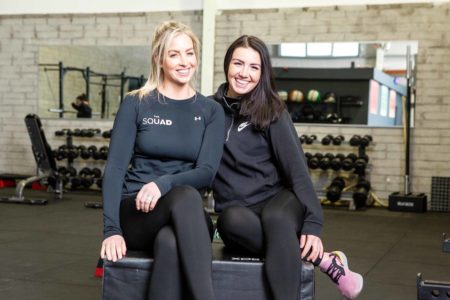 Kate Parfrey, and Josie McCarthy, Co-founders, The Squad Gym, pictured at the official launch of the new Squad Gym premises at Richfield Business Park, Ballycurreen, Cork
Picture: Michael O'Sullivan /OSM PHOTO