1 July 2019
By Elaine Murphy
elaine@TheCork.ie
Cork & Ross has a new Bishop since yesterday. Below are photos and the addresses of the outgoing, and incoming Bishops.
Words of welcome of Bishop John Buckley at the beginning of Mass for the Episcopal Ordination of Bishop-elect Fintan Gavin

Fáilte roimh go léir go dtí an ócáid speisialta seo, an ócáid lúcháireach seo, i saol na deoise. Cuirim fíor-chaoin fáilte roimh Monsignor Fintan agus cuirim fáilte freisin roimh gach éinne atá bailithe san Ard-Eaglais anseo i gCorcaigh.

I know too that Archbishop Diarmuid Martin and the Auxiliary Bishops from Dublin, priest colleagues and friends of Monsignor Fintan are very happy here in Cork today as they are simply travelling from one capital city to the alternative capital!

Today is a historic day in the life of the diocese. There have been only four bishops in Cork since 1916 – Bishop Coholan, Bishop Lucey, Bishop Murphy agus mé féin. Cork bishops are noted for their longevity! Today therefore is a milestone in the life of the diocese.

I know that Monsignor Fintan feels very much at home here in Cork. He has been among us for the past couple of months. They say that the Dublin football team does not play well outside of Dublin, but this does not apply to Monsignor Fintan! He is a man of wide and varied administrative and pastoral experience and I know too that he has the prayerful support of everyone in Cork. I also know that the hardworking priests of the diocese, who are very much aware of the primary focus of their ministry, which is to bring people closer to Christ and who are responding creatively to current pastoral needs, are looking forward to serving with Monsignor Fintan as he begins his ministry here in Cork of, in the beautiful words of Pope Francis "warming people's hearts with the good news of Jesus Christ".

I have the honour today of ordaining Monsignor Fintan as my successor and I know that you will continue to pray for him during this ceremony that the Lord will give him the health and the strength in guiding the people in the years ahead.

The most moving part of the ceremony is when I lay my hands on Monsignor Fintan. It is a very simple gesture, it takes only a short time, it is full of mystery and holiness, an invisible movement of the Spirit, a movement enriched by silence. It signifies the transmission of Christ's priestly power, unbroken, in succession from the Apostles down to the present time.

To prepare ourselves now as we begin our ceremony let us call to mind our need for the Lord's forgiveness and mercy through the rite of the blessing of water…

Homily of Father Robert Young, Parish Priest of Kinsale, at the Episcopal Ordination of Father Fintan Gavin, as the new Bishop of Cork & Ross: 'The Call of God'

My Sisters and Brothers in Christ,

It will be 200 years next year, 2020, since John England, a priest of the Diocese of Cork, a native of this parish, was appointed Bishop of Charleston, South Carolina in the United States. He studied for the priesthood in Saint Patrick's College, Carlow, was ordained a priest in this Cathedral in 1808 – the same year that the Cathedral was dedicated.

He served here in the Cathedral Parish as Chaplain to North Presentation Convent for nine years. In that time, he was also a lecturer in the seminary that functioned across the road from the Cathedral. He established a library in this area of the city and began publishing a Catholic monthly. He took on the trusteeship of a local newspaper and was its most forthright columnist.

John England lived in one of the most troubled times in Irish history. As the repeal of the Penal Laws took effect, the future place of Catholicism in Irish society was being worked out. The big issue was the proposal of a veto by the English monarchy on the appointments of Irish bishops in exchange for funding of the National Seminary at Maynooth. The monarchy did not want priests, trained in the France of the French Revolution, coming back to Ireland. John England, a typical Cork rebel, was a fiery opponent of the veto which threatened disaster for the Irish Church. He campaigned along with Daniel O'Connell for what culminated in Catholic emancipation. On 21 September 1820 he was consecrated bishop here in Cork.

While bishop of his new diocese he continued to use print media in his ministry. He was editor of the first Catholic publication in the United States sowing the seeds for the American Catholic press. He was the first Catholic priest to speak in the American House of Representatives. He made a contribution to the Church-State relations in the American constitution, advocating freedom of religion and total separation of Church and state.

John England was a firm believer in the value of respectful conversation with the culture of the day in which he was tasked to build a diocese, even if the culture was adversarial at times. But he never shied away from the truth, always seeking out opportunities to spread the Gospel.

John England answered the call of God. He took on a difficult and challenging mission to go to another country and set up a new diocese in difficult times.

Many people down through the centuries have answered the call of God. It is inspiring to hear their story and come to see what God does through them. We think of the Christian Brothers, their founder Blessed Edmund Rice who started their first school in Cork near what is now the basement of this Cathedral. Venerable Nano Nagle started her school and community only a stone's throw away from here. There are so many others. Every parish in the country has the story of women and men who have answered God's call. That is why we have devotion to the Saints. The work of Brother Kevin Crowley, Father Peter McVerry, Sister Stanislaus Kennedy and Sister Consilio of Cuan Mhuire, and others, inspire us today. In fact, every one of us here has our own faith story of trying to respond to God's call.

Today is a very special and historic day for our diocese. What is happening today has happened only eight times in the last 200 years. Today we thank God for the ministry of Bishop John Buckley. Bishop John, you have served faithfully as bishop for 35 years, 13 as Auxiliary and 22 as Ordinary. It has been a difficult and challenging time. We wish you well as you enter a new phase of your life.

I warmly welcome Bishop-elect Fintan Gavin. The priests and people of the diocese are delighted that you accepted the call to be our bishop. I would like our welcome to be Christ-like, not calculating or overpowering. I believe you are coming to us in The Lord's name as reflected in the Scripture Readings you have chosen for this Mass. Yours is a daunting task, like that of John England.

I was visiting the First Communion class in the parish where I work when I got my first phone call from you. Normally I would not answer the phone when in a classroom, but I was expecting another call that I needed to take so I excused myself from the children, stepped outside the classroom, and when I discovered it was you, I was delighted to welcome you to Cork. Then you asked me if I would preach the homily today. My reaction was in shock to say "Oh Jesus, Mary and Saint Joseph", knowing that there are others a lot more capable. I said I would think about and pray about it. Then when I thought about it, what struck me was that, my first conversation with our new bishop had me taking the Lord's name in vain! But then I thought further, no, that was the Spirit invoking in me, the prayer of Holy Family, and that there was no need for a flight into Egypt!

So, Bishop-elect Fintan, I am delighted to welcome you to Cork, I welcome your family – your parents Michael and Angela, your brothers and sisters, nephews, nieces and extended family. Michael and Angela, thank you for supporting two of your sons to be priests in our Church, our Bishop-elect Fintan and Father Morgan.

What is the Lord saying to us today as we gather here for this historic occasion? What is the Lord saying to us in the Scriptures? What stands out for me as I read and pray the Readings:

a) The words of the Psalm 'Waiting for the Lord, He hears our cry and puts a new song in our hearts'. It is the Lord's message that we really need! The Lord's message is always Good News. "They who wait on God renew their strength, they put out wings like eagles," say Isaiah (40:31)

b) In the Gospel we see the end of one era and the beginning of another. Jesus comes to the end of one era when He was physically present to his followers: a new era is about to begin at Pentecost. From then on Jesus will be present in His Body of Believers. He continues His Ministry to heal, to comfort, to forgive, to include, to teach and to guide through us. We his followers, will not be left on our own. He will give us His Spirit to be Christ's Body on earth.

c) Also in the Gospel, the eleven disciples set out for Galilee, to the mountain where Jesus had arranged to meet them. When they saw the Lord they fell down before Him, "though some hesitated"; though some hesitated. We can identify with this. Why do we hesitate? We hesitate because we are tired, we are a wounded Church, a Church that has been shamed, a Church that has lost credibility to many, a Church with an aging and diminished number of religious and priests. A Church that is in the winter season. To this Church Jesus speaks as he spoke to the eleven telling us that it is His Church, that He will be with us and that with him there is always a new Spring, a new beginning.

d) Saint Paul draws a picture of the unity that should exist in the Church if it is to fulfil its proper function as the Body of Christ. A body is healthy and efficient only when each part is functioning well. The parts of the body are not jealous of each other and do not covet each other's functions. From Paul's picture we see how we need each other and how we are to treat each other.

e) In the body there is no such thing as relative importance. If any limb or any organ ceases to function the whole body is thrown out of gear. All service ranks the same to God. This is very relevant for us as we try to move from a clerical hierarchical Church to being the Church as 'The People of God', Christ's Body.

f) The Prophet Micah, sums up perfectly, the values of those who try to respond to God's call: Act justly, love tenderly, walk humbly with your God.

Lord, strengthen our faith. Teach us how to wait for you. Give us a faith that will seek your guidance. Help us to discern our heart's desire. We will be your Body on earth when we hear your call and respond to it by using our talents, when we all work together, women and men, building up the faith community in every parish. As the beautiful stained glass window over the organ gallery inspires: Lord, pour out your Holy Spirit now on our Bishop-elect Fintan as he answers your call to be the Shepherd of the flock of Cork & Ross. Amen.
Address of Bishop Fintan Gavin at Mass for his Episcopal Ordination as Bishop of Cork and Ross

Today we have each experienced a wonderful celebration of the whole community of the Diocese of Cork & Ross in this joyful and uplifting liturgy as an expression of the very life of this diocese. All who gather and participate in different ways represent all that is good about parish, diocese and life, representing all ages, expressions, and diversity of that community life. I greet in a particular way, the community gathered in Saint Patrick's Cathedral, Skibbereen, who through the means of modern technology and iCatholic, thanks to Fathers Michael Kelleher, Chris O'Donovan and their team, are able to participate in solidarity, worship, and communion with us here. I look forward to joining you next weekend for Mass and the opportunity to greet you in person.

This afternoon I carry the Pastoral Staff or Crozier symbolising, Jesus, the Good Shepherd, which was created for Bishop Michael Murphy by his parishioners of the Parish of Douglas. For anointings, I will be using the Holy Oil vessels for the sacraments created by his neighbouring people for the Bishop of Ross in 1935. For me they symbolise the continuity of faith and bonds with the faithful local people of the diocese of Cork and Ross. It is for the same reason of the continuity of faith and apostolic succession that I was delighted that Bishop John Buckley agreed to ordain me today together with Archbishop Kieran O'Reilly and Archbishop Diarmuid Martin. Bishop John has given of himself so generously as your much-loved pastor over the last 21 years. I am personally grateful for the support and warm encouragement that he has given me since the announcement in early April. As he looks forward to a more relaxed pace of life in retirement, I hope that he will be present and active and feel welcome in our diocesan occasions and celebrations in the years ahead. I look forward to continuing to draw on his wisdom and his experience.

I am thankful to the Metropolitan Archbishop Kieran O'Reilly, a native of this city, for his involvement today.

To Archbishop Diarmuid Martin who has been my bishop for the last 15 years. I am grateful to him and to his predecessor Cardinal Connell for the many life-giving opportunities I have been trusted with in ministry as a priest over the last 28 years. I am particularly grateful to Archbishop Diarmuid Martin for his kindness and his practical advice and support in these months of preparation.

I would like to thank His Excellency Archbishop Jude Okolo, Pope Francis' representative in Ireland, for his presence here today and for his kindness over these last three months. I appreciate the presence of Archbishop Eamon Martin, Primate of All Ireland, and the many other bishops who concelebrated today.

Saint Paul in the second reading speaks about our common baptism in the one Spirit. I greet and welcome our ecumenical representatives: Bishop Paul Colton, Church of Ireland Bishop of Cork, Cloyne and Ross; Reverend Denis Maguire, Methodist Church; and, the members of Cork Ecumenical Standing Committee.

To all the priests and deacons from the Diocese of Cork & Ross and those who travelled from Dublin and the many others who have travelled from further afield, your presence and your participation today is greatly valued.

The thing that has struck me most since I arrived here in the Cathedral on 8 April for the announcement, has been the generous heartfelt welcome and offer of support of so many people in Cork City and county including from the many letters and cards of welcome and encouragement, especially from the priests.

This was captured in the letter from Joseph from West Cork who was preparing for his Confirmation when he wrote to offer me his good wishes and tell me that he and his family visited Knock and he prayed for me there and would continue to pray for me each day.

And when I travelled to Lourdes for the last time as chaplain with the Dublin Diocesan Children's Pilgrimage, I met with Cormac, Marie, Sean and Jodie who presented the gifts for the Eucharist today and the other members of the Cork 126 Group from the Irish Children's Pilgrimage Trust. They invited me for lunch at their hotel and presented me with my first Cork flag, which I treasure.

Meister Eckhart, the Dominican Mystic, once said, "if the only prayer you say is thank you, that would be enough". My prayer is a prayer of thanks and gratitude to so many today.

I am fortunate to have both my parents here today. I am grateful to them for all they gave to my brothers, sisters and myself through their selfless generosity and love and through their own example, sharing the gifts of faith and love.

I am fortunate to have very supportive family and close friends who have and continue to support me in ministry.

To those who have travelled from the United States of America, Italy, England, Scotland, Wales and so many parts of Ireland, thank you for your presence here today.

So many people in so many different ways have worked so generously to ensure that today's celebration would be welcoming, prayerful, joyful and uplifting.

The stewards, the hospitality, so many different groups of volunteers and an Garda Síochána.

I would like to pay special tribute to Father Michael Keohane, Brid McSorley and Maura O'Flynn, Elaine Williams and all those working in the diocesan offices; to Fathers John O'Donovan and Damian O'Mahony and the whole team of Cathedral staff, volunteers and parishioners.

Monsignor Aidan O Driscoll and Father Tom Hayes for our liturgical booklet and for all who collaborated with Father Tom in the communications aspects of today.

Father Christy Fitzgerald our Master of Ceremonies assisted by Fathers Damian McNeice, Peter O'Kane OP, and Turlough Baxter.

Saint Augustine reminds us that to sing is to pray twice. To Ann Roche, Ciaran Coll and the members of the Cathedral Choir and the Our Lady of Victories Gospel Choir and band, Joe Higgins, the Cathedral organist, the group of Irish traditional musicians and the other musicians, the Cork Deaf Community Choir, John Casey and the students from Scoil Eoin, Ballincollig Junior Choir, and the students from Mayfield Community School, and to Giovanna Feeley our cantor. All the choirs and musicians working together to create such a prayerful and uplifting liturgy for our participation.

To Father Robert Young for his thought provoking and encouraging homily.

There were so many involved in so many different ways in today's ordination liturgy – to each and every one of you I want to say a heartfelt thank you.

Today as we begin a new chapter in our diocesan story, we celebrate and give thanks for all that has been done to allow our parishes to be active and faith filled communities. We set out anew, building on all that great work through the years, together as priests, permanent deacons, religious and all the people of the diocese, as we collaboratively find new ways of witnessing to the Gospel message confronting with faith, hope and determination in joyful witness the many challenges that face our diocese and Church today.

We need to promote a culture of vocational discernment and consideration of all of the Christian vocations to love and service. We are fortunate to have in Cork & Ross, dedicated, hardworking and faithful priests who continue to give generous service, but they are a group that are getting smaller. We need to actively go out of our way to encourage, foster, nourish and promote vocations to the priesthood and consecrated life.

We are very conscious today of one of those great priests who went back to the Lord on Thursday last, Canon Kieran Twomey, parish priest of Blackrock. On behalf of all of us I pray for those who love Kieran and mourn him that they will be comforted and continue to be consoled.

The priesthood is a challenging but wonderfully fulfilling life. We need to help young men, all those who feel that Jesus may be calling them to follow him as priests, to hear and respond to God's call to priesthood. Priests come from our families and as families we must nurture and support those vocations.

Pope Francis continually reminds us that the mission of the Church, the People of God is to go beyond itself, to be open and welcoming, reaching out to those on the margins and the peripheries, going towards the last, the lost, and least among us – who are at the very heart of the mission of the living Body of Christ, the Church in the world. He names among those on the margins as the hungry, the unemployed, those in prison, those who have lost their faith. As a Christian community if we are to be authentic, we need to be in solidarity and reach out in concrete action. To those who have lost their faith or are struggling to hang on in there particularly because of the awful things that individuals or institutions have done in the name of the Church, we need to stretch out a hand of dialogue and listening so that their voices are heard – so that we can apologise once again and learn from the awful things that were allowed to happen. We can never allow this to happen again.

Deep gratitude goes out to all priests, sisters, brothers, deacons, all who serve in our parishes as staff and volunteers who have worked with great dedication in order to change this and to make our parishes and diocesan places safer for children and vulnerable adults. I want to acknowledge the work of Cleo Yates, Director of Safeguarding, and her important committee, for all the work they have done to make this happen. We stand in solidarity with survivors and their families and we continue our commitment and vigilance to the protection and safeguarding of children in our Church and in society.

Pope Francis in his Apostolic Exhortation to young people Christus Vivit, Christ Is Alive, which the Holy Father published in March, reminds us that young people are not just the future of the Church but also its present. As he puts it, "You are the 'Now of God'."

It's great to see so many young people here today. You as young people are the best missionaries and witnesses to other young people. As we listen to young people, we need to support them in their faith so they can be the Church, the People of God of now and of the future.

Pope Francis concludes the papal mandate read earlier by Canon John O'Donovan with an invitation: Speaking to me as your bishop and to the people of the diocese he says "May you give one another an example of mutual charity and be able to set out with one accord on the path of renewal."

Today we begin that path of renewal together.

As missionary disciples of Jesus, entrusted with his message, as married and single people, religious, deacons and priests in our complimentary service as the People of God, the living Church, we begin that renewal by living our faith in our parishes and in the market square as we look out for those on the margins – as the brave, daring and inspired Venerable Nano Nagle put it, "love one another as you have hitherto done' and also 'love the poor'. We recognise Jesus in his Word, in the Eucharist and each of the Sacraments, in each other, and in our own hearts.

Míle Buíochas. Thank you.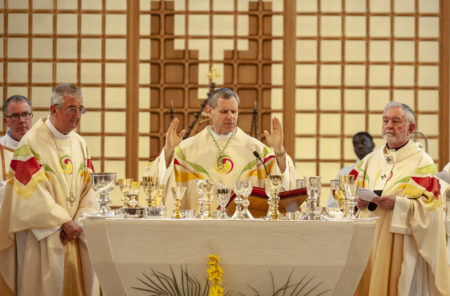 June 30, 2019
At the Episcopal Ordination of Fr. Fintan Gavin as Bishop of the Diocese of Cork & Ross at the Cathedral of St. Mary and St. Anne in Cork.
Newly ordained Bishop Fintan Gavin concelebrates mass during the ceremony.
Pic: Brian Lougheed