22 September 2020
By Elaine Murphy
elaine@TheCork.ie
Towns across Cork County develop ideas for their Town's future Vision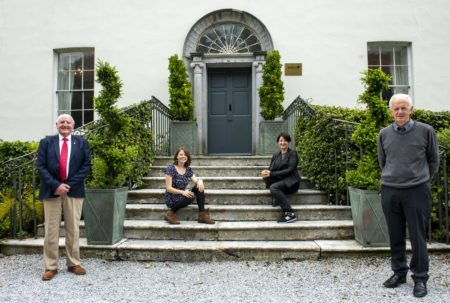 Eight towns across Cork County have been developing exciting new visions for their respective towns as part of the My Town, My Plan Community Training Programme. Community representatives from Carrigaline, Cobh, Clonakilty, Kinsale, Midleton, Rosscarbery, Skibbereen and Youghal committed to several months engagement and participation to collaborate and develop new ideas.
The Hincks Centre for Entrepreneurship Excellence, part of the School of Business at Cork Institute of Technology (CIT) designed and delivered the programme and funded through SECAD Partnership CLG. The face-to-face training and consultative sessions by expert facilitators began last September and as Covid-19 hit in mid-March, the April and May sessions moved online. The programme comprised of 4 core topics, delivered by experts, on developing community projects/enterprises, moving from ideas to validation, legal structures/governance and strategic planning and were delivered in each town over 8 evening sessions. In addition to the core topics, each town group selected 4 specialist topics most relevant to their town's future development.
Examples of some of the ideas from the eight towns:

West Cork:

Clonakilty: Develop greenways to various places in the town and collaborate with the Local Tidy Towns committee to develop a biodiversity garden to promote biodiversity projects whilst developing a historical trail featuring our well-known figures of national and international importance.

Kinsale: Set up a Community Partnership for open communication and consultation so everyone in it has a voice, act as a liaison between the many organisations in the community and be a forum for applying and drawing down funds for initiatives.

Rosscarbery: Document local trails to create a number of walking loops from different locations in the region including Rosscarbery, Connonagh, Leap and Glandore. Walks will be mapped and properly sign posted with information boards erected at these locations.

Skibbereen: Revisit the Skibbereen Traffic and Transportation Study to look at an alternative to the completion of the eastern relief road incorporating the new Community School, implement a one-way system on North and Bridge Street, improve parking in the town and introduce cycle corridors at peak school times.

South Cork:

Carrigaline: Develop an Arts and Culture Centre by re-purposing an existing building which will be a new focal point for the community. The Centre will incorporate a mixed-use office, flexible meeting spaces as well as a fully equipped theatrical, exhibition and heritage space.

Cobh: Single use take-away litter on the streets, particularly at weekends, is a big problem therefore a reusable take-away container scheme will be set up to reduce the amount of litter and single use items used by customers of food businesses on the island.

Midleton: Create a large regional park, matching play, culture and heritage with biodiversity all over 150 acres set along the natural floodplain of the Roxborough / Dungourney River.  Green spaces for leisure, sport and outdoor activities with playgrounds, cycle paths and walking trails will improve the quality of urban and rural life.

Youghal: The provision of a Blue Way to make Youghal and its hinterland easy to access by rail, bicycle, running, walking and by ferry. Key to this is re-opening the rail link from Cork to Youghal which closed down in 1963 and recently extended to Midleton. A ferry service which operated between Youghal and Ferrypoint from the 13th century to the early 1960's will also be re-instated.
Dr Helen McGuirk, Head of the Hincks Centre said; "We noticed one general theme across most towns and that is the idea of developing greenways/trails and parks, opening up new areas to be explored and enjoyed by locals and visitors. This is particularly pertinent with many Irish holidaymakers opting for a staycation this year due to Covid-19. The shared learning between the towns has been incredible and the Hincks Centre is delighted to have played a part in empowering these local communities. It was all about the participants and stakeholders working together, thinking creatively, evaluating options and making collaborative decisions to develop clarity and vision for their individual town ideas".
Ciaran Dineen from Carrigaline remarked, "My Town, My Plan gave me the chance to share my thoughts and ambitions for the future of Carrigaline. By meeting people who shared an appetite and desire to make a real difference, My Town, My Plan has encouraged me to move forward and build upon the conversations we have had with the information and knowledge around community development that has been provided. It has been a fantastic experience".
Maaike Mijland from Cobh spoke of her experience on the programme, "It has been very useful as it helped us to focus on our community goals, provided guidance with project planning and offered a wealth of information from experts. I really enjoyed connecting with my community and the facilitator and speakers were excellent and gave me useful tools, motivation and hope for the future".
Two free online shared learning events taking place on 29th September (West Cork) and 7th October (South Cork) at 7pm, will showcase each town's work so far and listen to great speakers from around the country on topics such as Social enterprise, retail in towns and tourism. The events will also introduce the next phase of support that SECAD is offering through the LEADER 2014-2020 Programme. For more information on the project and to register for the free events please visit www.hinckscentre.ie