20 February 2016
By Bryan Smyth
bryan@TheCork.ie
General Election candidate, and former Mayor of County Cork, Cllr Alan Coleman has strongly criticised the priority by the Irish Government to police fishermen over drug importers.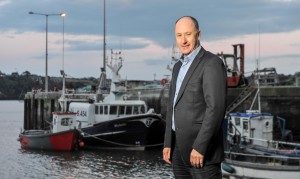 Along the West Cork and Kerry coast Cllr Alan Coleman states that there is just one Customs officer – based in Bantry – with sole responsibility for monitoring drug importation along the coastline of West Cork. Meanwhile, there are more than 50 Fisheries officers covering that same stretch of coastline.
"This sends a clear statement that the policing of hard working, tax paying fishermen is more important to the Government than battling the importing of illegal drugs that are causing irreparable damage to Irish society." said Cllr Alan Coleman
He continued "'In the town of Castletownbere alone there are more than 12 Fisheries officers, this is extreme policing at its most draconian. Meanwhile, Irish fishing has been decimated by poor quotas for Irish boats in such a huge fishing zone"
"There are 5 Gardaí in CTB policing on the Beara Peninsula from Glengariffe west, while there are 12 Fisheries protection officers!" noted Cllr Alan Coleman
In 2015 the Sea Fisheries Protection Agency (SFPA) carried out 1,476 inspections. There are just 2,115 Irish registered fishing boats.
When fishing boats land their catch ashore skippers and crew can be inspected for upwards of six hours, after spending up to ten days at sea.
"This is an unnecessary cost, as well as being a waste of skipper and crew hours ashore. Fishermen have said to me they want to spend time with their families ashore" said Cllr Alan Coleman.
The SFPA states that it is "committed to ensuring a strong future for the Irish fishing industry" yet "with such strong policing the industry and our coastal communities will be further decimated" said Cllr Alan Coleman.
Coleman feels "Fishermen who are creating jobs in the most rural parts of Ireland need to supported, not harassed"'
"Under EU law a minimum of 12% of the nation's Maritime budget must be spent on fisheries enforcement. Ireland have allocated triple what we require with 36% of Minister Coveney's maritime budget being spent on enforcement. This is absolutely crazy and the tense atmosphere it is creating is driving young fisherman away from the industry. With every Irish job at sea three jobs are created ashore. The current policy makes no sense, not personally for fishermen, and not economically from a wider revenue perspective"
Cllr Alan Coleman feels "The resources spent on fisheries protection should be reallocated to protecting our coastline from drug importers. These malicious drug lords are exploiting our under policed coastline and importing drugs which are destroying our society. Drugs imported to Ireland are causing untold damage to our country. €600 million worth of drugs are sold on Irish streets every year. Close to 700 people are die from drug related deaths each year and the problems caused by drugs are costing our health service hundreds of millions. Drug induced deaths in Ireland are the fourth highest in Europe and three times higher than the EU average"
Cllr Coleman feels common sense needs to prevail "Catching drug importers needs to be our priority. By reallocating resources to policing drug smuggling a clear message needs to go out – It is difficult to smuggle drugs to Ireland"
Coleman asks the question: "Why is the Government's national priority punishing fishermen instead of stamping out drugs?". He said "Policing fishermen and prosecuting them through the criminal justice system is surely not more important that putting a stop to drugs coming in through our coastline. I feel this is irrational. Common sense ought to prevail"