13 June 2016
By Bryan T. Smyth
bryan@TheCork.ie
When: Saturday 18 and Sunday 19 June 2016, 9.00am to 7.00pm each day
Where: Curraheen Showgrounds, Cork
What: The 2016 Cork Summer Show
Who: The Munster Agricultural Society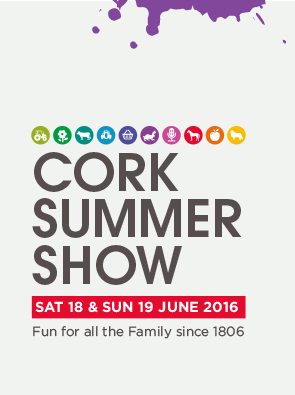 Every summer for the past 200 years the Munster Agricultural Society has put on a very special show in Cork. Now a family tradition, the Cork Summer Show is back this year and it promises to be the biggest and best show yet. With a family-friendly mix of agriculture, food, music, home, garden, crafts, equipment and entertainment for all ages the show will take place from 9am to 7pm each day on 18 and 19 June 2016 at the Showgrounds in Curraheen, Co. Cork.
Building on the success of past years, the 2016 show will feature all the traditional summer show staples including the superb breeds of cattle, magnificent hunters, ponies and horses, sheep, goats, poultry, trade stands and machinery. The 100-acre site will be home to more than 1,700 animals including 700 horses, 120 sheep, 80 goats, 100 poultry and 400 cattle.
There will also be more than 300 dogs competing across 9 categories in the pet and pedigree dog shows. Still on the animal theme, this year's event will see a significantly increased petting zoo for young children, with Rumley's Pet Farm and Leahy's Open Farm among others bringing their animals for children to enjoy.
This year will also feature the largest outdoor food festival in Cork, a craft beer tent to rival Oktoberfest, a stellar musical line-up including performances by The Frank & Walters, Lords of Strutt, Crystal Swing, Voiceworks featuring Claudia Rose, Aine Carroll (The Voice UK), Pat Fitz & Keith Hanley (The Voice of Ireland), The Papa Zita's, The Ceili Allstars, The Naildrivers, Jim X Comet, Billy Bubbles & many more.
Dr Pixie McKenna and Dr Phil Kieran will host a free pop-up clinic at the Cork Summer Show on Saturday 18 June for their RTÉ One Television Series "You Should Really See a Doctor". The doctors will offer on-the-spot consultations and health checks and are keen to examine the symptoms and ailments that are bothering the nation – lumps, bumps, pains, aches, tingling and even toilet troubles. Anyone wishing to apply, or to obtain further information regarding the tv series "You Should Really See a Doctor" can email doctor@indiepics.ie.