10 January 2017
By Bryan T. Smyth
bryan@TheCork.ie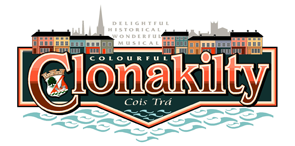 Clonakilty Mayor Anthony McDermott and his four colleagues in the Mayoral Council, (Deputy Mayor John Loughnan; Gretta O' Donovan; Colette Twomey and Cionnaith Ó Súilleabháin), were quite busy during the 2016/2017 Christmas and New Year period.
The Mayor himself of course had almost daily engagements like he has all year round, but the five as a group – who are all directly elected by the people of the town and surrounding areas – also undertook a number of initiatives.
On the weekend before Christmas when the town was alive with the children-centered activities at Asna Square. Mayoral Council members recorded a facebook video wishing Clonakilty people at home and abroad a Happy Christmas and New Year.
On Friday evening 23rd December at O'Donovan's Hotel the Mayoral Council organised a "Welcome Home for Christmas" social gathering to which locals and visitors were issued an open invitation. Here again, greetings were recorded on video thanks to Brian O'Brien and along with photos by Anna Gronieka were also posted on the Facebook page. At the event the Mayor wished everyone a Happy Christmas and New Year and those present raised a glass of complimentary Mulled Wine to Clon people all over the world.
On New Year's Eve, despite torrential rain, which began about an hour before midnight! a crowd of approximately 100, including families with children, assembled to sing and ring in the New Year at Asna Square. This popular event is now an annual one since the Mayoral Council was initiated in 2014 and saw many carrying lights and bells, as well as Paddy McCarthy, "Town Crier" in attendance. Unfortunately due to the rain the musical entertainment had to be cancelled, but undeterred, the Mayor and his colleagues led the crowd in popular Christmas Carols from about 11.50pm before leading the crowd in the countdown to midnight and the official start of 2017.
Mayor Anthony McDermott thanked everyone for their support and those who helped organise and promote the event. After everyone sang "Old Lang Syne", there were plenty of handshakes, hugs and well wishes and the event concluded with "Amhrán na bhFiann".
All these events – like everything done by the Mayor and Mayoral Council, are conducted in a totally voluntary capacity.