9 March 2017
By Bryan T. Smyth
bryan@TheCork.ie
Stresses need for Special Economic Status for NI and continuation of CTA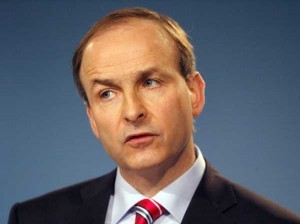 Fianna Fáil Leader, Micheál Martin has said that there is a strong consensus among the seven liberal Prime Ministers, and leaders of ALDE parties, that the negative effects of Brexit must be mitigated against.
Deputy Martin was commenting after a pre EU council summit held at the Egmont Palace in Brussels where the Prime Ministers of the Netherlands, Luxembourg, Finland, Belgium, Estonia, Denmark and Slovenia met with him to discuss the implications of Brexit on Ireland.
"I made it clear, in no uncertain terms, that Fianna Fáil believes that Brexit is, and will continue to be, a major challenge for Ireland.
"Fianna Fáil, like the vast majority of Irish people, remains absolutely committed to Ireland remaining a full and constructive member of the European Union.
"My colleagues on the European Council are committed to ensuring that Ireland's socio-economic interests are at the heart of the negotiations.
"In addition to meeting with the various Prime Ministers, I emphasised to the European Parliament's Chief Brexit negotiator, Guy Verhofstadt, the need to recognise Ireland's unique situation as the only continuing member of the EU to share a land border with the UK.
"In particular, a special economic status for Northern Ireland, and the continuation of the Common Travel Area between Ireland and the UK were also raised.
"Article 50 will soon be invoked by the UK Government, and negotiations proper will commence. I am confident that following my discussions today, all seven Prime Ministers, and Commissioners from the ALDE Party, are now firmly aware of the need for Ireland's interests, north and south, to be at the forefront of the negotiations," concluded Martin.