3 April 2017
By Tom Collins
tom@TheCork.ie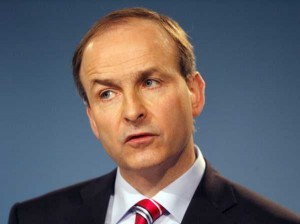 Fianna Fáil Leader Micheál Martin TD (Cork South Central) has called on the Government to demonstrate good faith on the question of investment in the future of Public Transport. His call comes following reports that the WRC will invite different parties to the Bus Éireann dispute into a potential resolution process.
Deputy Martin commented, "The dispute between management and staff at Bus Éireann has deteriorated into a bitter strike and the ongoing danger of secondary strikes across the country. There is no doubt in my mind that the failure of leadership on the part of the Transport Minister has contributed to the current crisis, but now that the WRC may set out a potential path forward, he and his colleagues need to step up to the mark and give any such talks the best possible chance of success.
"In his intermittent media appearances during this dispute, the Minister has hinted that he is aware of the wider issues facing the public transport sector and that the Government is open to looking at greater investment in the sector.
"If this is the case, he and his colleagues need to take the chance to demonstrate good faith and move forward on the wider discussion about how we can achieve a sustainable public transport system that is fit for purpose.
"The workers on their own were never going to be in a position to fix the structural funding problems at Bus Éireann. The insistence on behalf of some that the issues at Bus Éireann were all about the workers has created a completely counterproductive environment.
"Now that a new avenue for talks may open up, all those involved, including the Government, need to seize the opportunity and proceed in good faith.
"A signal from the Minister that he understands the wider issues facing Bus Éireann and the public transport sector, and is prepared to invest in it, could go a long way to transforming the atmosphere. The uncertainty and inconvenience facing passengers is simply unacceptable and the problem needs to be solved."