4 May 2017
By Bryan Smyth
bryan@TheCork.ie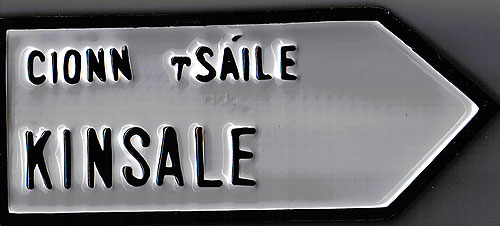 The four-star Trident Hotel in Kinsale has completed a substantial investment and refurbishment programme. The hotel, which is situated in the heart of the picturesque and iconic town of Kinsale, is known for its enviable waterfront location overlooking the famous yachting harbour that marks the starting point of the Wild Atlantic Way.
Over the last six months, the Trident, with its 75 guestrooms including an executive wing comprising 30 rooms and a penthouse floor of nine luxury suites, all with beautiful views has undergone a significant refurbishment through an investment of €1.5 million. The relaunch comes just in time for the busiest period for the hotel which is a popular location for boutique weddings, events and conferences.
The Designer
Designer Daphne Daunt created the new looks and described it as one of the most enjoyable projects she has worked on to date, working with the Trident team who all were so invested in the project. It was important for Daphne in her designs to enhance the existing features and character of this beautiful historic hotel. Recognising that so many hotel rooms and public spaces can be very generic – Daphne wanted to create something a little different, so that even if guests are staying in the hotel on business, the rooms and public areas will offer something different, a sense of friendliness, with colours totally at ease with the stunning and tranquil waterside setting of the Trident.
Daphne stated "My first impressions of the Trident was of the warmth and friendliness of those I met and of the location which is so special, like being on an ocean liner. I wanted to reflect that in the way I designed the rooms."
All of the guestrooms and suites have had a major facelift, using vibrant colours and textures to show case the furnishings and compliment the stunning waterfront views through the floor to ceiling windows. Lots of fresh and colourful Jane Churchill and Nina Campbell materials were chosen to make the rooms feel luxurious and the soft furnishings were custom made by Ken Jackson's team in Cork, the acres of beautiful curtains come from Buggy Curtain Making, Ballon in Carlow.
A selection of specially commissioned monotone coastal photography from local photographer Rohan Reilly hang in each room, reminding guests of the unique part of the world that they are in. The furniture in each guest room has been specially commissioned including art deco styled dressing tables in a vibrant red, came to life with lots of help and expertise from O'Donnell's of Skibbereen, all the new furniture pieces are sophisticated & stylish giving the rooms a modern feel mixed with classical comfort.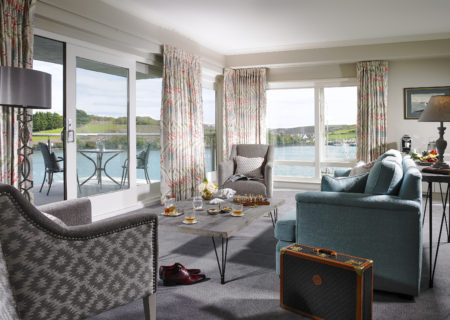 The Manager
Hotel General Manager, Hal McElroy, who is celebrating 30 years at the helm of the Trident this year spoke about the fantastic work that has been done "Versatility is the defining feature of our hotel which offers the most intimate and sophisticated location for guests to relax, unwind and soak up the breath-taking views of the harbour and of course the enchanting town of Kinsale. The team here have worked very hard to create something really special with the new look public areas, guest rooms and suites – we are very proud of our new look and look forward to welcoming you as our guest."