31 July 2017
By Tom Collins
tom@TheCork.ie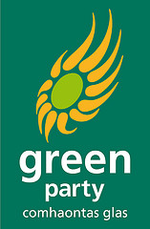 The Green Party has welcomed plans for an area-based approach to the expanded Cork City Council after 2019, but warned that these must be more than toothless local committees. The party expects there will be six local areas in the expanded city, including a city centre ward.
Plans for an area-based approach to local government in the city are included in the terms of reference for the Cork Local Government Implementation Oversight Group. The group will oversee the extension of the city boundary recommended by the Mackinnon report in June of this year. The first task of the group will be to prepare a detailed implementation plan to be completed by September 2017.
The plan to move to an area-based approach was first put forward by Cork City Council in their submission to the Cork Local Government Committee in 2015.
Speaking this morning, Green Party spokesperson for political reform and representative in Cork North Central, Oliver Moran, said:
"Given the recommended area for the new city boundary and the number of new councillors, we imagine the best configuration will be for six city areas. Two on the north side, three on the south side, and a city centre area with about 6 or 7 councillors in each. This will allow local councillors to work closer with the communities they represent and concentrate on developing and overseeing genuinely local plans."
"But I'm concerned that what's being talked about is like that of Fingal County Council, where the local area committees have no actual powers. For a genuine area-based approach to work, the area councils will need statutory powers like those of the municipal districts in the county. Anything less will be a talking shop that doesn't actually empower anybody."
Mr Moran continued to put forward about a vision for local government that sees local communities more involved in decision making:
"It would be great to see residents' organisations and community groups being involved as an integral part of the new plan for the city. Other cities around the world take a neighbourhood approach to planning and local services and they nurture the unique qualities of their neighbourhoods. That's where I believe we should be going in Cork as well."
Mr Moran was a vocal opponent of the 2015 report that recommended the merger of Cork city and county councils. That report has since been overturned.