15 September 2017
By Bryan Smyth
bryan@TheCork.ie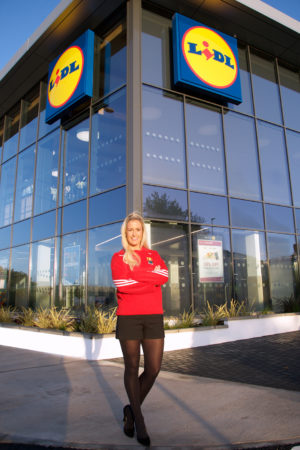 Brid Stack officially opened Lidl's brand new store in Wilton today, which saw the creation of 20 new jobs in the locality. The new store boasts a new architectural design and spacious store layout, meaning Lidl can offer customers a greater shopping experience with the same great value. The opening of Wilton brings Lidl's number of stores in the Republic of Ireland to 153, with over 4,300 employees.
Speaking at the Lidl Wilton opening, Marie O'Connell, Store Manager said; "We are delighted to open Lidl's 153rd Irish store in such a fantastic location. We are right in the heart of a very vibrant community and the whole team is really excited to get to know our new customers over the coming weeks. We have a fantastic state of the art new store packed full of fantastic value and quality products at market leading prices."
Lidl's recent Kick Start Supplier Development Programme saw a number of Cork food producers compete for the chance to supply Lidl with a guaranteed volume of their products for a limited edition 'Best of Ireland' food promotion which was launched on Monday September 11th. Cork producers such as The NutCase Food Company, Bia GanBreise Teo, iASC Atlantic Seafood Company of Ireland, Kinsale Bay Food Co, Irish Atlantic Salt Ltd, Munster Brewery, Cotton Ball and Naturespharm Ltd were among the 70 Irish suppliers selected as part of this programme. The programme, which is run by Lidl Ireland and supported by Bord Bia, is designed to help small and medium Irish food and drink businesses that need support in growing their brand and building their supply network. The final product selection complements the portfolio of Irish products currently available in Lidl stores.
Lidl is committed to working with its growing number of over 200 Irish suppliers to bring the best of fresh, local produce to its network of 153 stores throughout the Republic of Ireland. Lidl Ireland invests €500 million per annum in sourcing Irish goods and services. Last year the retailer also pledged to create 600 jobs over the following 2 years to support their increasing customer numbers and growing market share.