17 November 2017
By Bryan Smyth
bryan@TheCork.ie
Marking the completion of a multi-million euro upgrade project, HEINEKEN Ireland today welcomed Mr. Simon Coveney, T.D., Minister for Foreign Affairs and Trade, to unveil its new look headquarters in Cork. The 128 year-old iconic Malt House building at Leitrim Street has been revamped to provide an inspirational and collaborative environment for HEINEKEN Ireland's 200+ Cork based employees.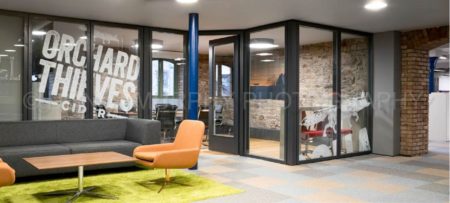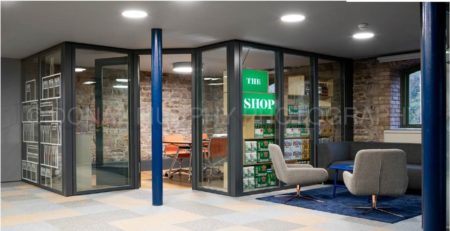 HEINEKEN Ireland has a 161 year brewing heritage in Cork and the Lady's Well Brewery is home to some of Ireland's favourite lager, stout and cider brands.
The Malt House, built in 1889 by James J. Murphy, was converted into HEINEKEN Ireland's head office in 1992. Twenty five years later, the upgrade works to this historic building have been undertaken with the vision of providing a vibrant, state of the art and collaborative space while staying true to the company's rich past.
HEINEKEN Ireland's commitment to sustainability through its 'Brewing a Better World' strategy was central to the upgrade project:
The use of a state-of-the-art smart lighting system and a centrally controlled heating system, that maximises natural day light, will result in a 30% decrease in energy consumption on an annual basis;
A new waste management system and employee education programme has resulted in the site now having "zero waste to landfill";
Office equipment and furniture was donated to 13 local Cork charities;
Local contractors and suppliers worked to deliver the project.
Unveiling the new look HEINEKEN Ireland head office Minister Simon Coveney commented: "I would like to congratulate HEINEKEN Ireland on investing in their historically important head office and brewery in Cork. HEINEKEN is a valued employer and economic contributor in the region and I wish them every success in the future and the continuation of their proud tradition in Cork."
Maggie Timoney, Managing Director, HEINEKEN Ireland, commented: "The extensive multi-million euro refurbishment project to our 128 year-old head office has allowed us to bring our great people and great products even closer together. We set out to provide an inspiring and innovative work environment for current and future HEINEKEN Ireland employees. I want to congratulate everyone involved in delivering on this vision. With a brewing heritage that goes back 161 years, we are proud to be part of Cork's rich heritage. Our new look home is the perfect symbol of who we are, combining the best of our past with the bright ambition of our future."