12 January 2018
By Elaine Murphy
elaine@TheCork.ie
Films Shown on Thursday Nights in St. John's Central College
CORK CINE CLUB offers authentic and original armchair travel to ten countries around the world during its 18th season of bringing the best of independent international cinema to Cork audiences.  Films from the U.S., Senegal, Australia, France, Morocco, Russia, Zambia, the U.K., Italy and Israel will be shown on Thursday nights at 8pm in St. John's Central College on Sawmill Street.
Season 18 spans a particularly broad spectrum of genres – comedy, thriller, crime, western, romance, drama, adventure and musicals all make an appearance – with several exploring international politics and social justice.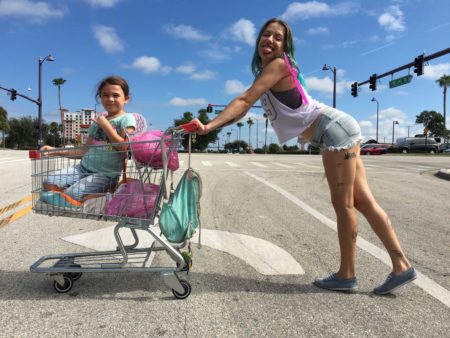 The season opens on Thursday 25 January with the critically-acclaimed American film, THE FLORIDA PROJECT.  A child's sense of wonder is at the heart of this deeply sympathetic film about people living on the impoverished fringes of Florida's tourist traps.  It has received uniformly glowing reviews, especially for the astonishing performances, including one by 6-year-old Brooklynn Prince who is tipped for a Best Actress Oscar nomination.
Cork Cine Club presents its first film from Senegal with FÉLICITÉ on Thursday 1 February.  This musical, magnetic portrait of life on the mean streets of Kinshasa in the Democratic Republic of Congo features a heroic central performance by the Congolese actress and singer Véro Tshanda Beya Mputu.
What seems a simple missing person's case in the Outback reveals a web of crime and corruption in GOLDSTONE on Thursday 8 February.  It is a complex, stylish and tense western that explores both Australia's history and contemporary issues of aboriginal relations and human trafficking.
ROSALIE BLUM is a sweet but never saccharine French comedy about three misfits who bring out the best in each other.  Fans of Amélie will enjoy this warm, witty and life-affirming film on Thursday 22 February.
MIMOSAS is a dreamily mysterious and beautifully shot film about two disreputable Moroccan men who accept the task of carrying the body of a holy man across the mountains to be buried in his home village.  Thursday 1 March.
From Russia, LOVELESS is a thriller of hypnotic, mysterious intensity directed by the celebrated Andrey Zvyagintsev.  Parents torn apart by a vicious divorce are more interested in starting lives with new partners than tending to their 12-year-old-son who mysteriously disappears.  Thursday 8 March.
Another first film from an African country, I AM NOT A WITCH is a knockout and captivatingly beautiful debut film that tackles the story of a girl in rural Zambia accused of witchcraft. This striking fairy tale/satire blends comedy with tragedy to remarkable effect.  Thursday 15 March.
A bitter dispute between a brother and sister over the tenancy of their family farm in Yorkshire is the subject of DARK RIVER.  They unearth traumatic memories that have lain dormant for years.   Thursday 22 March.
The Guardian's film critics have unanimously picked CALL ME BY YOUR NAME as their number one film choice of 2017.  Set during an endless Italian summer in the 1980s, this languid romance is imbued with a sophisticated sensuality and sensitivity toward both the pain and pleasure of first love of a bored youth and a handsome older man.  Acclaimed performances from both leads hint at Academy Award nominations. Thursday 12 April.
Cork Cine Club's season concludes on Thursday 19 April with the terrific Israeli film, IN BETWEEN.  Three female flatmates in Tel Aviv fight the constraints of their Muslim faith and families in an inspiring directorial debut.  It is a bittersweet and empowering tale of women whose lives are rarely depicted on screen.
For full details, trailers, reviews and more, see www.corkcineclub.com.
Tickets are €8.50 (full)/€7 (concession) and are sold at the door.  Season tickets are €60 (full)/ €45 (concession) and include all 10 films.  There is no film on 15 February, 29 March or 5 April due to College closures.  Foreign language films are subtitled.  Shorts may be shown before the feature film.