16 February 2018
By Mary Bermingham
mary@TheCork.ie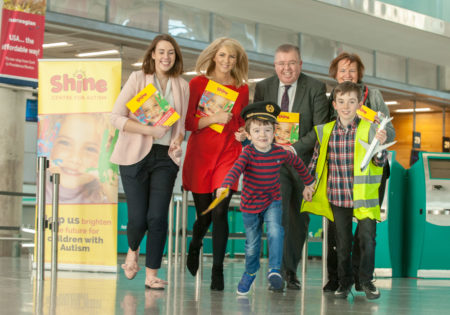 Cork Airport has named the Shine Centre for Autism as its Charity of the Year for 2018. Pictured at the announcement at Cork Airport were brothers from Carrigaline, along with Laura Crowley, Manager of Educational Support Services, Shine and Eamon O'Donovan, The Loop Retail Operations Manager, Cork Airport Also included are Kathryn O'Dwyer (left) and Kathleen Walshe, Cork Airport Communications Dept (right).
Pic: Brian LougheedCork Airport has named the Shine Centre for Autism as its Charity of the Year for 2018. The Airport also plans to work with Shine to build on its existing autism initiatives to assist children and families travelling through the airport.
"We are delighted to have Shine as our Charity of the Year for 2018," said Managing Director at Cork Airport, Niall MacCarthy. "This is a charity that resonates with many families across the region, and we are looking forward to supporting them through fundraising initiatives over the coming year."
Shine is a voluntary organisation and registered charity, which has worked with children and adolescents with autism since its establishment in 2001.
Speaking on the announcement, General Manager of Shine, Kieran McAuliffe stated: "We are thrilled that Cork Airport has chosen Shine as their charity partner for 2018. With the rates of autism diagnosis still increasing, the support of Cork Airport will make a real difference in helping Shine to continue our work to provide programmes, services and support to the many children and families affected by autism across the region."
Along with fundraising events throughout the year, Cork Airport has Shine donation boxes located throughout the terminal and The Loop Shop.
Each year, Cork Airport works with a different charity, raising funds and awareness. In 2017, the Airport worked with the Kevin Bell Repatriation Trust, raising awareness of their work and much needed funds for the charity. The Charity of the Year is organised by the Cork Airport Charity Committee, founded in 2014, and run on a volunteer basis by staff employed at Cork Airport.
The announcement of the 2018 Charity of the Year comes with a commitment from Ireland's second busiest airport to work with Shine to build on existing autism initiatives to assist children and their families, along with the provision of autism specific books about their journey through the airport. This initiative will commence in the summer season for children with autism who haven't travelled through an airport before.
Mr MacCarthy added: "These books will work as a visual aid and go hand-in-hand with our Autism/Autism Spectrum Disorder (ASD) Travelling Through the Airport guidelines that are already in place, and found on our website."
The books are part of the Suzie series by author Charlotte Olson, intended to help children with autism cope with new situations. The books will be available at Cork Airport in advance of the busy summer season.