5 March 2018
By Elaine Murphy
elaine@TheCork.ie
An Tánaiste, Simon Coveney, TD launched Volvo Cork Week, which takes place this year from July 16th to July 21st at the Royal Cork Yacht Club in Crosshaven.
Speaking at the launch on Haulbowline Island in Cork Harbour, he said: "It is always a pleasure to be asked to officially launch an event like Volvo Cork Week. Events like this are very important for Ireland, showcasing, as they do, the beautiful marine resource we have, particularly here in Cork Harbour, the second biggest natural harbour in the world. Competition for The Beaufort Cup will see teams from many different national and international defence forces, RNLI, Coast Guard, Welsh and Northern Ireland Police, and other service teams, competing against each other and this year it again includes an overnight race around the famous Fastnet Rock. It is great to see Volvo Cork Week being the first Irish Regatta to take an active approach on the fight against plastics. It is a subject that is very close to my heart and I will do all I can to assist them in their effort this year. Cork is truly at the forefront of sustainability and renewable energy, with MaREI (Centre for Marine and Renewable Energy) located here in Cork Harbour."
David Thomas, MD Volvo Car Ireland, said that Volvo Car Ireland, in partnership with Johnson & Perrott, are proud to sponsor Volvo Cork Week for the third time: "since coming to Ireland, I have seen and appreciate the importance of the water as an island nation. The Volvo brand is synonymous with sailing across the world and we believe in the importance of supporting, and partnering, with sports and communities where our customers live, work, and play."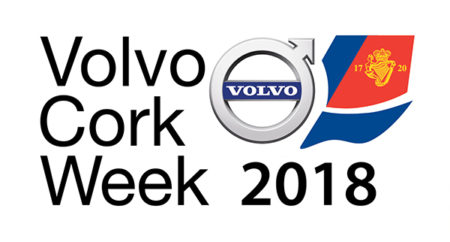 Kieran O'Connell, Chair of Volvo Cork Week, welcomes the growing awareness of the plastics issue amongst the public and particularly amongst sailors. He intends to put an emphasis on reducing Volvo Cork Week's impact on the environment. Amongst the initiatives being proposed is that all competitors will be asked to use reusable drink containers and there will be water coolers/fountains available. Suppliers will be asked to reduce their use of plastic and use compostable materials. "Each year, 8 million tonnes of plastic enters our seas and if no action is taken there will be more plastic than fish in the ocean by 2050, every bit of plastic ever made still exists somewhere. Care to the environment is a core value at Volvo Car Ireland and we intend to play our part during Volvo Cork Week 2018. Education and outreach activities will be facilitated by MaREI during the event."
The first of a series of beach cleanups took place during the launch. Schoolchildren from Crosshaven took part in an initial clean up of the beach on Haulbowline Island. This is the first in a series of nationwide beach cleanups Volvo have planned to help raise awareness of the #TurnTheTideOnPlastics initiative. The Royal Cork Yacht Club is the NMU Marina of the Year and is a Gold Anchor Awardee from the Yacht Harbour Association. It is committed to minimising the impact of its activities on the environment and has created a Green Events Policy which will be applied during Volvo Cork Week 2018.
While retaining many of the successful elements of previous events Volvo Cork Week 2018 has a completely redesigned format which gives competitors various options to choose whilst still enjoying the world-class racing that is on offer. Entries have already been received from Ireland, England, France, Dubai and Australia and this year, both the SB20 and Dragon Class will host their championships at Volvo Cork Week for the first time.