30 January 2020
By Elaine Murphy
elaine@TheCork.ie
Today Cork City Hall plays host to day one of the 6th annual I Wish conference, which provides over 6,000 female students with the opportunity to learn about career opportunities in the areas of STEM (Science, Technology, Engineering and Maths) over four days in Cork City Hall and the RDS. The showcase events are comprised of insightful talks and keynote speeches delivered by a host of inspiring speakers thriving in STEM careers, to interactive exhibitions and engaging workshops designed to raise awareness of the myriad of opportunities that a STEM career can offer young women.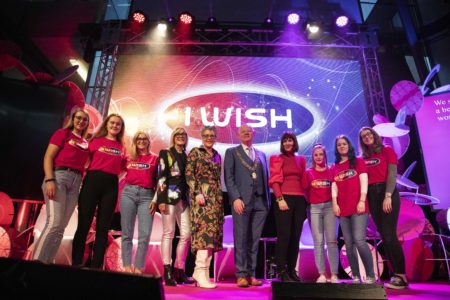 With less than 25% of the STEM workforce in Ireland being female, the aim of I Wish is to break down the barriers that face young females when it comes to choosing a career in STEM, providing them with valuable information and the confidence to take the next step in choosing a career in STEM.
Since its establishment in 2015, I WISH has held showcase events in Dublin and Cork, welcoming over 22,000 female students with the aim of encouraging and motivating young girls to pursue careers in STEM, so they can be inspired to change the world.
The Lord Mayor of Cork, Cllr John Sheehan, opened the event this morning, with Cork's own Sinead Kennedy hosting the event as MC. Students were treated to a host of top tier keynote speakers such as Catherine Halpin of VMware and commandant Gillian Collins, Irish Defence Forces. Several other speakers from multinationals such as Google, Dropbox, PepsiCo, Dell Technologies|VMware, Arup, McAfee, Johnson & Johnson and Stryker also took to the stage to enlighten their young listeners along with their teachers. A number of I Wish Alumni also spoke at the event, sharing their story and inspiring the next generation of leaders in attendance.
Commenting after her keynote speech, Catherine Halpin, Senior Director of Global Support at Dell Technologies|VMware said, "I was delighted to be asked to speak at an event as inspiring as this. Here today, there are thousands of young female students exploring the possibilities of a career in STEM and discovering how STEM can change our world. I was in the same position as these young students and it would have been hugely beneficial if there was an event like I WISH when I was in secondary school. Through my own career in STEM, I have witnessed the lack of females entering the STEM workforce, which we know is hugely due to a lack of information. Conferences like I WISH will give young women and girls the information they need and show them the fantastic careers within their grasp."
Adding to Catherine's comments, Gillian Keating, Co-founder of I Wish elaborated, "Since I WISH was established in 2015, we hear year on year from students that they want a career where they can help other people, or change the world for the better, yet the latest I WISH survey results revealed that 64% of students state they do not know enough about STEM. I WISH aims to bridge this information gap and give young women the opportunity to explore their potential within STEM sectors. This year we have welcomed to the stage a number of young women, who attended I Wish in the past and were inspired to pursue STEM. In that way I Wish has come full circle."
To learn more about I Wish and how their pioneering work is igniting sparks for STEM throughout Ireland, visit their website at www.iwish.ie.