7 February 2023
By Tom Collins
tom@TheCork.ie
Aontú selects Patrick Murphy, Fisheries Campaigner as its Candidate to contest the EU Parliament Elections 2024 in the Constituency of Ireland South
Aontú has selected Fisheries Campaigner, Patrick Murphy from Ballydehob, County Cork to represent the Party in the upcoming Elections to the European Parliament for the Ireland South Constituency.
Welcoming the selection of Patrick Murphy Aontú leader Peadar Tóibín TD stated;
"I am delighted to have a representative of calibre of Patrick Murphy to stand for Aontú in the upcoming local election. Patrick has a proven track record of local community activism and representing Ireland at the top level in EU negotiations. Patrick came to international prominence recently as part of a group of fishermen who dared to challenge the flotilla of Russian warships who were testing missiles off the south-west coast of Ireland. Similarly Aontú is a small new movement taking on the political establishment. We aim to win a seat in the EU for the people of Ireland South in 2024. Patrick and myself will have the honour to address a public meeting on fixing the cost of living crisis in the Metropole Hotel, Mac Curtain St, Cork on Monday the 20th of February at 8pm. We urge people who demand change to get involved in this campaign now".
Patrick, who is 52, is married to his wife Rose with 4 children and, through his family business, he's been involved in the production of Mussels in Roaringwater Bay for the past 25 years. Patrick has also led the Irish South & West Fish Producers Organization (IS&WFPO) based in Castletownbere, County Cork in the role of Chief Executive Officer representing Sea-fishermen throughout the south and west coasts at the local, national and European Union levels since 2016.
Speaking today, Patrick said "I am honoured to have been selected to represent Aontú in the forthcoming elections to the European Parliament. Coming from a small family farm and growing up in West Cork, I've spent my whole life intimately involved in the life of our coastal community. I've partaken in and led our local community council, coached the Gabriel Rangers Gaelic Football team and set up the Ballydehob Youth Centre. The health and wellbeing of our community and specifically, that of our young people has always been a priority for me. As part of my commitment to ensuring the provision of essential local services to all in our community, I joined the local community First Responders and trained to become a qualified Instructor so that I could train and teach others to provide these essential emergency services. When my wife and I understood that one of our children required additional educational services, to allow him to attain his full potential, I was inspired to return to education and I studied for and attained a qualification in Child Care from Rossa College in Skibbereen."
Continuing, Mr Murphy said "Through my work with the IS&WFPO and my membership of the EU's European Markets Advisory Council, Pelagic Fisheries Advisory Council, North-West Waters Advisory Council and the European Association of Producers Organisation, I'm acutely aware that the Irish people and specifically, our Coastal Communities are so dependent on Fishing for their livelihood and survival, and that they are being failed at a European Union level. We need politicians to represent us in the European Union who have the strength and courage to stand up to vested interests working in and around the European Council, Commission and Parliament in Brussels while protecting our Irish interests and specifically the interests of our Fishing and Farming Communities.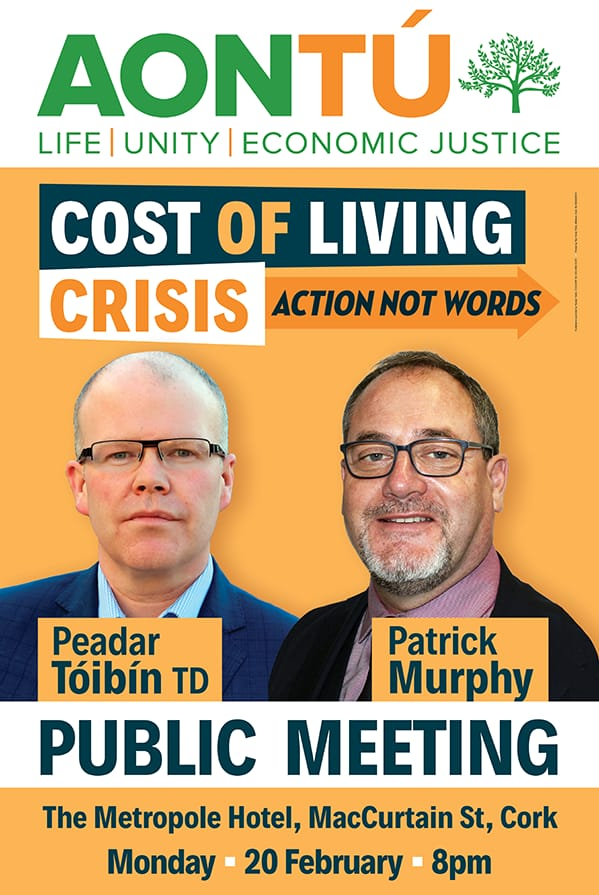 "From policies ranging from the Green Deal to Farm to Fork and from Restoring our Oceans to the Single Use Plastics Directive and a plethora of other Environmental and Regulatory Policies, European Union legislation impacts upon the lives of every Irish Citizen on a daily basis. The Social and Economic impact of these Polices on all of us must be considered, front and centre, prior to their passing through the EU Parliament and becoming law. Otherwise, the lives and livelihoods of all of us can be negatively impacted without our ever even knowing that these Laws and Policies exist or are in the pipeline."
"All of us in Ireland need people with a practical knowledge and experience of how to operate in both business and society in general, to step up to the plate as Politicians. We need people who understand how the Legislative and Lobbying systems operating in Brussels affect the daily lives of ordinary people here in Ireland."
"As an example of this, Norway, a non-EU member, is currently looking for Fishing Rights to catch Blue Whiting in Irish waters. If such Rights were agreed by Brussels, then Norwegian Catch Quotas in Irish waters would be more than 8-times greater than over those of our own Irish Fishing boats. This simply is not acceptable. Our European Representatives in Brussels must fight for a fair deal for Irish Fishing Boats and Irish Fishing Communities. I very much look forward to the opportunity to fight hard for our people at a European level if granted the privileged opportunity to do so by the Voters of Ireland South." Mr Murphy concluded.