16 November 2023
By Bryan McCarthy
bryan@TheCork.ie
Cork County Council's acclaimed 'Explore Cork' app gained national recognition at a prominent event hosted by the National Oversight and Audit Commission (NOAC). The app was also commended by the Minister for Housing, Local Government, and Heritage, Darragh O'Brien TD, during the annual Good Practice Seminar held in Kilkenny on October 26, 2023.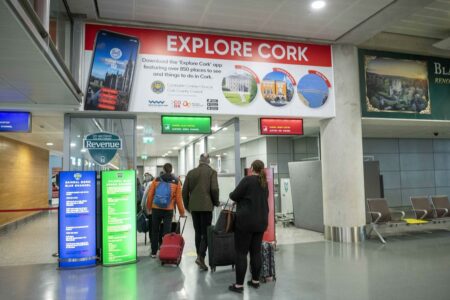 Launched by Cork County Council in the summer of 2021, the 'Explore Cork' app marked a pioneering step by a local authority in Ireland, responding to the profound challenges that the tourism industry faced due to the COVID-19 pandemic.
This innovative app's journey began with a desktop-based map introduced in 2020, underscoring the need for further digital initiatives to promote Cork as a premier tourist destination. Subsequently, the mobile tourism app was developed to serve as a robust, long-term marketing tool utilising Cork County Council's in-house resources. The project encompassed extensive mapping, consultations with industry stakeholders and the selection of a tender contract for app development.
The 'Explore Cork' app was launched in May 2021, boasting remarkable features such as 'What's Near Me?' functionality, 850 points of interest categorised into 19 sections, offered in four languages and a host of other user-friendly features.
Cork County Council has since strategically promoted the app through targeted domestic and international marketing. These include an advertising partnership with Cork Airport, specifically targeting inbound travellers and active use of social media channels. The Council also actively encourages app usage during key festivals and events, fostering longer visitor stays that contribute to enhancing the local economy.
The Mayor of the County of Cork, Cllr Frank O'Flynn highlighted how,
The resounding success of the 'Explore Cork' app is evidenced by the impressive number of app installations, currently totalling 22,250. In recognition of this exceptional initiative, Cork County Council was honoured with the 'Best Tourism Initiative' award for the 'Explore Cork' app at the LAMA All Ireland Community Council Awards in 2023. It is truly a superb addition to our tourism offering and is a one stop shop highlighting the immense offering we have here in Cork.
The 6th annual Good Practice in Local Government Seminar, organised by NOAC in collaboration with the Local Government Management Agency and the County and City Management Association, showcased a wide array of innovative projects across various areas, including renewable technology, crisis management, recruitment, education, tourism, strategy development, and assistance for vulnerable individuals in need of accommodations.
Minister for Housing, Local Government, and Heritage Darragh O'Brien TD opened the event and acknowledged the "initiative, innovation, and hard work of local authorities." He praised the NOAC Board for its pivotal role in providing independent oversight of the local government sector.
Minister O'Brien further commented, "The diversity and quality of the projects highlighted truly bring to life the remarkable work of our local authorities, showcasing their positive impact across the country. These projects underscore the importance of local action and collaboration on issues ranging from housing and education to climate change, with local authorities leading the way in driving excellence. I commend the outstanding projects discussed and applaud NOAC for facilitating this annual best practice event that fosters learning and collaboration among local authorities."
The hybrid event, held both in-person and online at Kilkenny Castle, was part of the Department of Public Expenditure, NDP Delivery and Reform's Public Service Transformation Week 2023. It brought together Chief Executives and senior officials from local authorities throughout Ireland, providing a platform to showcase and exchange innovative projects that exemplify best practices in the sector.