24 May 2016
By Bryan T. Smyth
bryan@TheCork.ie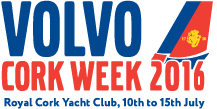 With nearly 90 yachts already confirmed for the 2016 edition of Volvo Cork Week, an increase in entries from 2014 is highly likely for Ireland's most famous regatta. Hosted by the world's oldest yacht club, the Royal Cork Yacht Club, the regatta offers phenomenal racing conditions; boasting one of the world's largest natural harbours, a stunning cliff-lined coast and the Atlantic. Volvo Cork Week has the natural resources to provide some of the best racing anywhere and combined with the legendary 'craic' of Irish hospitality, and a concerted effort to drive down costs, Volvo Cork Week is a regatta not to miss.
2016 Volvo Cork Week will also host the first ever, IRC European Championship, the Irish Quarter Tonner National Championship and the inaugural Beaufort Cup.
Tony Langley's TP52 Gladiator is currently the fastest yacht competing at Cork Week. However, British entrepreneur Tony Langley will not be at the helm of Gladiator for Volvo Cork Week, as Team Gladiator Project Manager, Tom Wilson explains:
"Tony would love to be there but has other commitments. His son Bernard has taken up the challenge to lead the team. Much the same as our last regatta, which was Antigua Sailing Week, we will have a young team of talented sailors on board from Britain and also several local Irish sailors. The team is just being finalised but the youngsters will be joined by some very well known yachtsmen."
Royal Cork's Anthony O'Leary has enjoyed tremendous success with his Ker 40, Antix, racing with his three sons, Peter, Nicholas and Robert and an all Irish crew. Anthony was the Irish Captain for both of Ireland's Commodores' Cup wins and his former boat, also called Antix, was the overall RORC IRC National Champion in 2014.
"The move to host the first IRC European Championship at Volvo Cork Week was an inspirational move by the sailing committee, the Royal Cork YC and the Royal Ocean Racing Club." Commented Anthony O'Leary. " To have the championship in Cork is fantastic and I am sure it is the perfect venue for what IRC is all about. There is a massive variety of courses; plenty of windward leeward but also reaching and running legs, and you never know what the Harbour Course has in store. If you sat down with a blank piece of paper to design the best courses for an IRC regatta, Volvo Cork Week has been providing it for years."
"From the point of view of Antix, we are especially looking forward to racing against Teasing Machine. In the 2010 Commodores' Cup, in her former life as Catapult, the Ker 40 had a great battle with Teasing Machine and we look forward to that. There are similar battles right through all the classes and to have twice as many boats already entered compared to the same time in 2014, we are hoping for a large number of quality boats enjoying an outstanding regatta."
Laurent Pages has competed in the last two editions of the Volvo Ocean Race, winning the round the world race with Groupama in 2014 and will be tactician for Eric De Turkheim's French A13, Teasing Machine for Volvo Cork Week.
"With the intention to race around Ireland in June, Volvo Cork Week was really an option for us. The fact that IRC European Champion title will decided at Volvo Cork Week was also a key point." commented Laurent. "Teasing Machine will come with a lot of ambition but we know the competition will be really fantastic! It's a great challenge! And always a great pleasure to come to Ireland. To have a variety of racing conditions is absolutely great: mixing pure inshore races and coastal races gives so much interest and it all makes sense to contend an IRC European Title in that way. Irish sailors will be really hard to beat in their home waters and we also know that top British teams will be highly competitive, as always but we will defend the french chances with determination and passion!"
Oystercatcher XXXI is the third boat to be designed for Sir Richard Matthews by Tom Humphreys and should be launched 8th June, after fitting out at Fox's Marina Ipswich. Oystercatcher XXXI will be making its debut at Volvo Cork Week, although Sir Richard has been coming for years.
"A return to a genuine dual purpose cruiser racer, a proper cockpit, berth for every crew, H&C water including a shower and a proper galley with an oven – all in less than 39 feet and 86 feet shorter than my 'other' boat!" laughed Richard. "Cork Week has always been friendly and it is even better now that it's more of a regatta and less of a pop concert and I prefer Murphy's. The race courses are varied and interesting and I especially enjoy the Harbour Course. Oystercatcher's crew will be mostly our East Coast (UK) regulars (some of whom are still young enough to walk unaided!) and Eddie English our dear friend from Cobh, who has done the last 8 or 10 Cork Weeks with us. All of the crew are keen golfers and The Old Head of Kinsale is one of the best courses in the world and is a fine start or finish to the week."
Conor Phelan's Ker 37, Jump Juice has been extremely successful at Volvo Cork Week, winning class in 2010 and runner up in 2012 and 2014.
"I live just up the road, I have to come every regatta! I enjoy the competition, the professional race management, variety of courses on offer, the onshore entertainment and the camaraderie. This year I think that it is great that the IRC European Championship is part of it. Jump intend doing the Irish, UK and Welsh IRC nationals so it's a great fit to our programme. It is really tough to win your class at Volvo Cork Week, because all the good boats and best sailors are there. Competition, varied conditions and courses and a lively social scene all mitigate against predictability. Not until the skipper and crew look each other up and down each morning can one make any presumptions. A lot depends on the night before! Having gone through the rock concert type event some years ago the event is firmly fun for sailors mostly on site. Expect great craic, late nights and sore heads."
Simon Henning's British Mumm 36, Alice is returning to Volvo Cork Week after a long absence, as Simon explains: "We did Cork Week in 2006 and 2008 in Farr 45, Alice 2 but the Mumm 36, Alice was last at Cork Week in 2004, she has had a major refit and is much more competitive, the first IRC European Championship is the big attraction to come back this year and we are looking forward to a very competitive week. Also Cork is a great place to sail with a variety of conditions and it is rare you get a windless day. For me personally, the older you get, the more you need to grab the opportunities that come along."
The IRC European Championship is attracting new teams from overseas of a very high standard and the Beaufort Cup is bringing new faces to Volvo Cork Week. The Beaufort Cup invites sailing teams from their associated national services, 50% of each team must be active in the service they represent. Racing will take place over five days in a mix of offshore and inshore courses. The winning team will also have €10,000 donated to a nominated charity.