26 April 2017
By Bryan T. Smyth (Assoc CIPD)
bryan@TheCork.ie
The CIPD Southern Region Committee held another in their series of breakfast meetings this morning. It took place at 7:30am in the Maryborough House Hotel, and was sponsored by CareerWise Recruitment. The Guest Speaker was author and lecturer Prof Paddy Gunnigle.
His address was entitled A critical evaluation of the evolution of Workforce Management in Ireland and its implications for practice
Paddy has had a long and distinguished career in HRM both in Ireland and abroad. He offered CIPD members the benefit of his wide experience with a reasonably quick and critical evaluation of the topic. Afterwards there was a question and answers session which looked at the feminisation of HR and the erosion of entry level jobs due to automation.
Speaker Biography: Prof. Paddy Gunnigle, Chartered FCIPD
Paddy is Professor of Business Studies, Director of the Employment Relations Research Unit and former Head of both the Department of Personnel and Employment Relations and the Department of Management at the University of Limerick.  A graduate of University College Dublin (B.Comm, 1977; MBS, 1978) and Cranfield School of Management (PhD, 1995), and Fellow of the Irish Academy of Management, he has authored, co-authored or edited 19 books and over 100 refereed journal papers and book chapters. His research has been published in the leading journals in the field such as the Journal of International Business Studies, British Journal of Industrial Relations, Industrial and Labour Relations Review  and the Journal of World Business .A former Fulbright Scholar  and Marie Curie Exchange Scholar, Paddy is member of the editorial boards of the Human Resource Management Journal, Asia Pacific Journal of Human Resources, South African Journal of Human Resource Management, Industrial Relations Journal and Employee Relations: The International Journal. He is former co-editor of the Irish Journal of Management. His research interests include international business/multinational companies, human resource management (HRM), trade union membership and recognition, management strategies in industrial relations, and the role of HRM specialists. His research has attracted financial support from the European Union's Framework 7 programme, the Irish Research Council for the Humanities and Social Sciences, the Irish Research Council and the Economic and Social Research Council (UK). He holds Visiting Professor Appointments at Sorbonne Université Paris II (Pantheon-Assas), Nelson Mandela Metropolitan University and Rhodes University and has delivered distinguished lectures and invited presentations at several leading universities and business schools in Asia, Australia, Canada, Southern Africa and the US. He is currently external examiner at the University of Bath, University College Dublin and University College Cork and has examined doctoral theses at several Irish and international universities, including Macquarie University (Australia), Trinity College (Dublin), Queens University (Belfast), Griffith University (Australia) and the University of Warwick (UK).He was the 2013 recipient of the University of Limerick Excellence in Research Award and was thereby bestowed with the title University Research Fellow 2013-16. In 2009 he received the award of inaugural Fellow of the Irish Academy of Management in acknowledgement of his distinguished contribution to academia and the study of business and management in Ireland. He is a previous recipient of the University of Limerick's Special Achievement in Research Award (2000) and is also a Fellow of the Chartered Institute of Personnel and Development (FCIPD). Paddy previously worked as a senior executive in the semi-state sector in Ireland and lectured for some years in Zambia.
Sponsor Biography: CareerWise Recruitment
Established in 1999, CareerWise Recruitment is recognised by many of the major indigenous and multinationals companies to be one of Irelands leading specialist Technical and Executive Recruitment firms.  We provide recruitment services in the areas of Engineering, Supply Chain, Sciences, IT and Accounting & Finance. The firm operates out of multiple locations in Ireland and have offices in Cork, Shannon, Galway and Dublin.​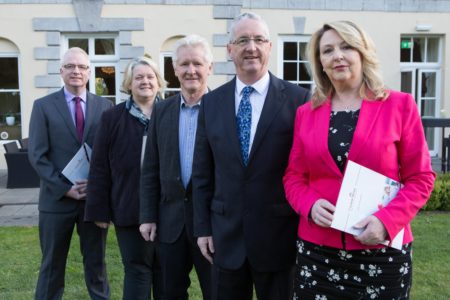 Mike Morrissey, CareerWise, Margaret Collins, CIPD, special guest speaker Paddy Gunnigle, Professor of Business Studies UL, Ken Casey, Director CareerWise and Mari Manning, CIPD at a Career Wise Recruitment breakfast sponsored by the CIPD (Chartered Institute of Personnel and Development) Southern Region in the Maryborough House Hotel. Picture. Darragh Kane