6 July 2017
By Bryan Smyth
bryan@TheCork.ie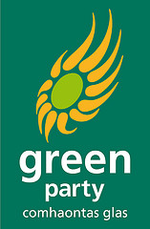 The Green Party in Cork has learned that an "Implementation Oversight Group" will oversee the process of the Cork city boundary extension. The Government has said it expects the group to present a detailed implementation plan on the boundary extension "early in the Autumn".
The plan to set up an Implementation Oversight Group was announced in answer to a parliamentary question put by the Green Party representative for Cork North Central, Oliver Moran, via the party's Catherine Martin TD.
Responding to the question, the Minister for Housing, Planning, Community and Local Government, Eoghan Murphy, said:
"The changes recommended by the Cork Expert Advisory Group report represent the most significant population transfer associated with a local government boundary extension in Ireland. To ensure that the challenges of implementation are addressed effectively, an Implementation Oversight Group is to be established to oversee the process. Its initial main task will be to submit a detailed Implementation Plan early in the Autumn which will help to clarify timescales for various aspects of the process."
Minister Murphy said that the Government were dealing with several issues to do with local government reform, including reducing the size of local constituencies, and that changes to election boundaries arising from this would be "undertaken in good time before the 2019 local elections".
Speaking after the minister announced the creation of the Implementation Oversight Group, Mr Moran said:
"After years of uncertainty and decades of sitting on reports, I have to congratulate Minister Murphy and Simon Coveney for having moved on this issue finally. Extending the city boundary was always the most common sense approach. It will serve the city well and it will serve the county well too into the future by providing a cultural and economic dynamo that can power the entire Cork region. A lot of people, myself included, put a great deal of energy into defeating the wrong-headed merger proposal in 2015. We can congratulate ourselves on that as a city. I hope now that the county council won't put up any unnecessary roadblocks so that we can have the first elections to the new Cork City Council in 2019."