13 September 2017
By Bryan Smyth
bryan@TheCork.ie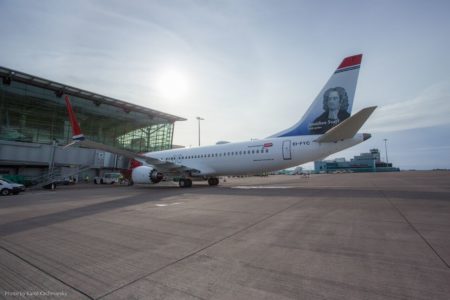 Service direct Norwegian service from Cork to Boston Providence
Norwegian is the first European airline to take delivery of new Boeing 737 MAX 8 aircraft
Irishman Jonathan Swift adorns the tail fin of new aircraft
The new MAX 8 reduces the airline's carbon and noise footprint
Norwegian's new Boeing 737 MAX 8, one of the world's newest commercial aircrafts, landed this morning at Cork Airport and will later service this afternoon's scheduled departure to Boston Providence. Norwegian is the first European airline to receive and fly the new aircraft.
Following a highly successful and historic transatlantic route launch from Cork Airport in July, the MAX 8 will now operate the direct Norwegian service to Boston Providence. Norwegian fly three times weekly to the state capital of Rhode Island up to the end of October and twice weekly for the Winter season through until the end of March.
Norwegian Chief Commercial Officer Thomas Ramdahl said: "We've had a strong summer on the Cork route with many flights full, so introducing our brand-new MAX aircraft is another significant step for the airport's historic first transatlantic flights. Not only can passengers in Cork fly low-cost and direct to the US for the first time, they will also now be flying on brand new state-of-the-art aircraft, all from just €99."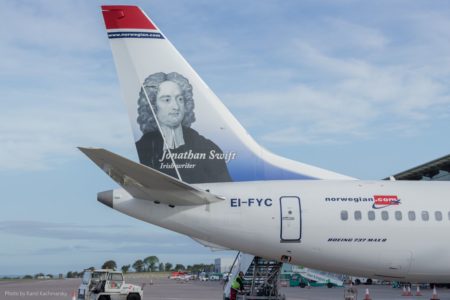 The awaited landing of the new aircraft is particularly special from an Irish perspective as acclaimed author and former Dean of St Patrick's Cathedral, Jonathan Swift, is honoured on the aircraft's tail fin. Swift's work, "Gulliver's Travels" is celebrated the world over.
Norwegian has always honoured iconic Norwegian figures on the tail fins of it aircraft. This year, the airline announced a series of Irish tail fin figures, to mark its success and growth in Ireland. Swift is the second in the series, following Irish explorer Tom Crean.
Cork Airport's Managing Director, Niall MacCarthy said: "We are very excited to welcome Norwegian's newest aircraft to Cork Airport. The MAX 8 overtakes its rivals in terms of innovation and efficiency. It is particularly special that the aircraft is graced by an Irish literary hero and I think this is testament to the strong and thriving roots that Norwegian has grown since launching in Ireland.
The new MAX 8 certainly paves the way for future expansion of direct transatlantic routes from Cork Airport", he added.
The new MAX aircraft is unrivalled in terms of fuel efficiency, which is foreseen to positively impact on operational and ticket costs.
Further enhancing the passenger experience, the engine features noise suppression technology, enabling the craft to reduce noise emission by 40%. The wings of the craft have been modified from previous models, improving airflow around them.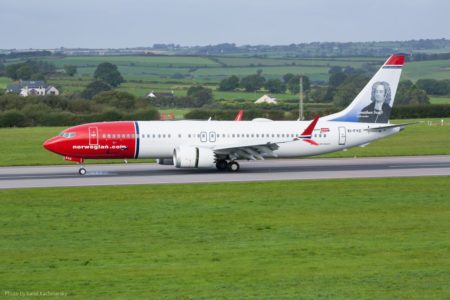 With a capacity of 189 passengers, the aircraft also adopts the popular Boeing Sky Interior. In line with Norwegian's existing 737 and 787 fleet, seat size and leg room are on par, if not ahead of fellow low-cost carriers. Norwegian has 100 of the new aircraft on order to service and expand their transatlantic operations.
Cork Airport passengers can still avail of a transatlantic seat sale with Norwegian, with fares starting from €99 one way on flights to Boston Providence during the travel period of 16th October 2017 to 16th March 2018. The sale ends at midnight on 18th September, 2017.