13 September 2017
By Bryan T. Smyth
bryan@TheCork.ie
And so September rolls around again, and the Everyman theatre comes to the last instalment of their 120th birthday programme, in which they pledged to honour the rich and varied performance history of the building through a programme that brings Cork the very best of the performing arts.
At the Autumn programme launch, Julie Kelleher, Artistic Director, commented: "Each of the 12 months of the year hosts a special Everyman120 show – an event that we feel encapsulates the best of the building's past, present, or future, as we continue our mission of maintaining tradition and breaking new ground. My continued thanks to you for your unwavering support of the artists who make and present shows here, and indeed your support of our grand old building."
The Everyman 120 events to look out for in the coming months are the exciting and varied programmes with the theatre's friends from Cork Comedy Festival (September), Guinness Cork Jazz Festival (October), Cork Film Festival (November), and of course, no Everyman year would be complete without everyone's family favourite, the traditional Christmas panto, Beauty and the Beast, gorgeously co-produced by CADA Performing Arts.
MacCurtain St and the Victorian Quarter has really sprung to life in the last couple of years, and it really has everything you need to feed, water, and entertain yourself in style. The autumn and winter sees a range of great nights out in the shape of live gigs and comedy from Donovan, Dermot & Dave, Cara & Majella: Together, The Illegals featuring Niamh Kavanagh, two editions of the Everyman Sunday Songbook, John Spillane, Jason Byrne, David O'Doherty, Christine Bovill's Piaf, Keith Barry, Faulty Towers, Magical Mozart, and John Wilson's A Taste of Rory Gallagher.
From great nights out to the great outdoors… the season brings tales of great adventure as Tom Crean: Antarctic Explorer returns, as well as appearances from legendary mountaineer Simon Yates (of Touching the Void fame) and Ireland's answer to David Attenborough, wildlife expert Colin Stafford Johnson.
Families who fancy a bit of the weird and wonderful this October midterm break should check out the acclaimed production of Alice In Wonderland by Blue Raincoat which opens on Halloween night for the weird; and for the wonderful, don't miss Ballet Ireland's pre-Christmas treat, Romeo & Juliet.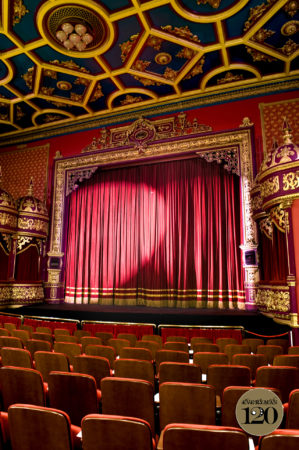 In theatre, the Everyman brings some of the big hits from last year's Dublin Fringe Festival: Brokentalkers' stunning take on Europe's refugee crisis This Beach, as well Joanne McNally's honest and funny Bite Me and the charming and hilarious To Hell In A Handbag which gives a leading role to a pair of supporting characters from Oscar Wilde's beloved The Importance of Being Earnest, both of which recently took the Edinburgh Fringe by storm. Don't miss Moonfish Theatre's gorgeous and unique adaptation of Joseph O'Connor's bestselling novel Star of the Sea – it is everything that modern Irish theatre can, and should be, doing.
Beckett fans can rejoice for 2018 will bring a bonanza for you – watch out for the world premiere of How It Is: Part 1, a new stage adaptation of his novel by international Beckett specialists, and Everyman Artists in Residence, Gare St Lazare; a visit from Druid with their critically-acclaimed smash hit production of Waiting For Godot; and a special one-off concert performance of Gare St Lazare Beckett-inspired music event, Here All Night.
Seán Kelly, Executive Director at the Everyman, commented at the launch: "We have a fantastic programme lined up for our all of our audiences over the coming months. In our 120th year the Everyman is going from strength to strength with audiences continuing to increase while the events on our stage continue to excite and fascinate. I can't wait for it all to start."
See www.everymancork.com for full details of the Everyman Autumn/Winter programme.
Tickets are available from the website, or from the box office, telephone 021 4501 673.