5 December 2017
By Bryan Smyth
bryan@TheCork.ie
County Cork is on some Winning Streak after Carrigaline man, Finbarr O'Mahony won a total of €36,000, including a holiday to Iceland and then the names of two more people from the rebel county were pulled out of the Winning Streak drum to appear on next week's episode of the National Lottery and RTE game show. They are Noreen Creed from Greenmount and Sarah Barber from Rochestown.
38 year old Finbarr O'Mahony spoke of how he almost fell down the stairs in excitement after seeing his name pulled out of the drum to last week. He got such a shock when he heard his name, he jumped up and ran for the stairs – almost crashing down them, forgetting his leg injury.
Finbarr had sustained a leg injury a couple of years ago which had kept him in hospital all over the Christmas period in 2015. Now with his Winning Streak windfall he plans on having "two Christmases this year to make up for the one I missed out on". On the show Finbarr also revealed that he also won a battle with cancer a few years ago.
Finbarr is a former plasterer and is now a trainee golf course greenkeeper, something that requires less time on his feet. Since he hasn't been able to work at his trade he admits money has been tight for the past couple of years so Finbarr closing 2017 out on a great note.
He remained tight-lipped on the show on what he wanted to do with the cash we do know that he is looking forward, very much, to his holiday to Iceland, having never set foot off "the isle".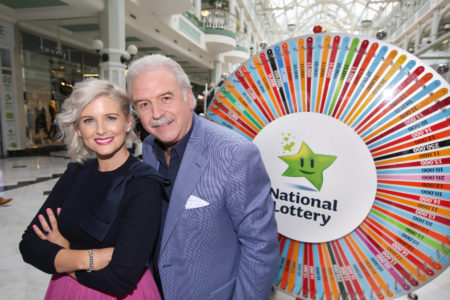 She will leave Christmas dinner prep to her husband Tony who will be Home Alone this Christmas and will cook for her 4 other daughters and their kids! Tony was watching Winning Streak when his wife's name was called out on Saturday and started screaming. Noreen got a fright as she was cleaning the bathroom at the time!
Tony will be coming along to RTE to support Noreen before he kisses her goodbye for the month. Also coming to RTE are her four daughters Tracey, Alison, Lorraine and Orla and her grandchildren.
Noreen is a huge bingo fan and her bingo buddies in the Rock in Togher gave her a nice call out on Sunday and all of her friends wished her well on the show.  When asked what she will do with her winnings, Noreen plans on having a more comfortable holiday in Canada and hopes to get enough for a new kitchen in the New Year.
Sarah Barber from Rochestown, Co Cork is the second Winning Streak guest this week from the rebel county. Sarah celebrated her 55th birthday a couple of weeks ago and says that in life she is a really lucky girl. The reason for this, mostly, is that she faced the challenge of being born at 26 weeks – 14 weeks' early and spent months in an incubator. Despite fears that there was going to be long-term harm done to her in that delicate state, she was absolutely fine and that is the most important luck she has ever gotten.
Sarah is married to Robert who she has been with for 28 years and the couple have two daughters; Lorna and Anne (22 and 23). Lorna is studying in UCC while Anne is coming home specially to support her mum on the game show. She studies zoology in the University of Glasgow. Also coming along to cheer Sarah on is her mum and dad, Anne and Bill, as well as Sarah's brother Terry and sister Orla. Sarah's other brother Niall will be watching from San Francisco, where he lives.
Sarah is interested in sports having played competitive tennis and hockey. She actually played for the Munster team in tennis and played for Harlequins hockey club in Cork. That's where she met Robert who played for the Harlequins rugby side.
When asked what she will do with any winnings next Saturday Sarah said that she will definitely visit her brother in San Francisco early next year.