5 December 2017, Tuesday
By Bryan Smyth
bryan@TheCork.ie
The latest in a series of engagements between the two Cork Councils and the Implementation Oversight Group (IOG) took place yesterday , with political and executive representatives from both sides meeting with the IOG. The elected members of both Councils were subsequently briefed in relation to progress made on agreeing a boundary alteration.
It is understood that the Chair of the IOG, John O'Connor, will this week deliver his report defining a revised city boundary to the Minister for Housing, Planning and Local Government, Eoghan Murphy who established the IOG.
Cork City Lord Mayor, Cllr Tony Fitzgerald described the outcome of yesterday's engagement as positive. "The scale of the boundary extension discussed yesterday represents a significant reduction in the boundary originally proposed by Cork City Council to the Cork Local Government Review Group. However the City Council has engaged fully with the IOG in its efforts to deliver a deal that could form the basis of the expansion of the city," said the Lord Mayor.
"The process has been protracted and complex and the compromise proposal hasn't met with all our expectations. However it represents a historic opportunity for Cork – both for the City and County, and indeed the wider Cork region. Working together, both Councils can grow Cork to be a true counter-balance to Dublin and help to drive the national economy", he said.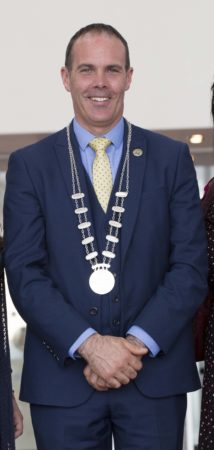 Cork County Mayor Cllr Declan Hurley (Independent)Cork County Mayor, Cllr Declan Hurley, expressed his satisfaction that both sides have achieved considerable progress.
"Both Councils have invested significant time and effort in recent weeks in reaching a solution, and the fact that a proposal has been identified is testament to the desire on the part of both Councils to conclude the matter locally. Everyone involved has adopted the approach that any boundary alteration must deliver what is best for Cork, its people, its communities, its future. While Cork County Council is ceding significant territory to the city, it will continue to retain responsibility for a large portion of its overall strategic employment areas (for example, areas such as those surrounding the entire Cork Harbour, Little Island, and East Cork, will remain in the county). Both Councils acknowledged that it was unlikely that they would each achieve all that they individually sought to achieve. Today's developments provide a solid basis to move forward – on a joint collaborative basis – to drive the entire city and county of Cork as the leading economic region outside of Dublin, and that is great news for Cork".