6 November 2019
By Mary Bermingham
mary@TheCork.ie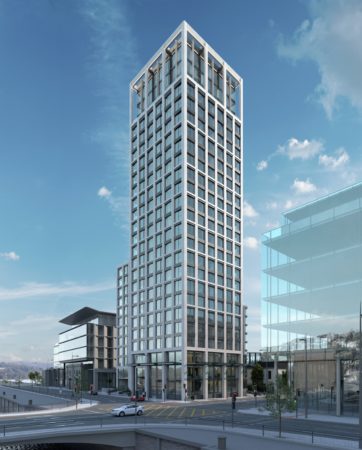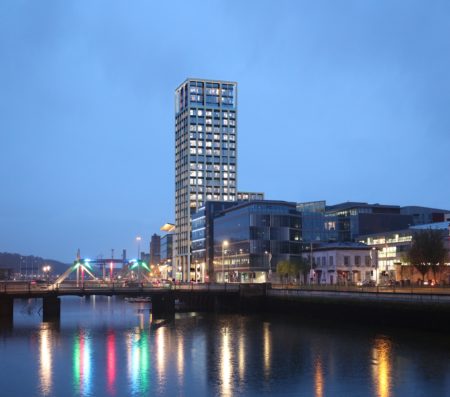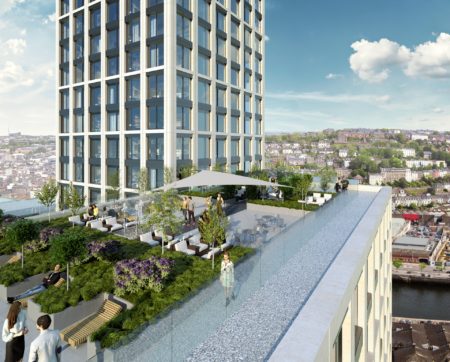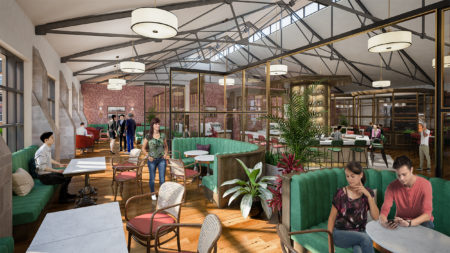 JCD Group today have confirmed it has formally lodged its planning application with An Bord Pleanála to construct a large-scale residential "build to rent" scheme in Cork's docklands in response to the severe shortage of quality rental accommodation in the City. The development, if approved, will be a purpose built, high quality apartment scheme on the Carey's Tool Hire site, which the company purchased earlier this year.
JCD have completed the pre application process as set out in the fast track "Strategic Housing Development" Guidelines which must be completed prior to making a formal application directly to An Bord Pleanála. A decision is expected within the next 16 weeks.
The project would sustain 200 construction jobs and deliver 201 apartments into a market desperately in need of quality residential accommodation. The site itself extends from Albert Road along Albert Street, fronting Albert Quay and includes the former Sextant Bar, as well as the former Terminus for the Cork-Blackrock & Passage Railway. The proposed scheme will comprise of 93 one bed, 104 two bed and 4 three bed apartments.
Part of the proposed scheme will include the relocation of the Bar and Restaurant use from the former Sextant premises to the protected Ticketing Office and Railway Terminus Building located on Albert Street, the creation of an internal public plaza and the refurbishment of the Station Offices for office use. There will be significant investment in these protected and historic structures to restore them to their former prominence. This investment will bring renewed vibrancy and ensure the long-term viability of these important buildings.
John Cleary CEO of JCD Group stated: "We are very excited to be progressing this proposed large-scale residential scheme on this key site. It's been almost 12 years since the last new City Centre apartment scheme of scale was completed in the City and given the current momentum in the office sector, the availability of apartments such as those proposed is an essential ingredient to the ongoing development and growth of the City Centre. We really believe that Cork has an opportunity to undergo a real transformation into a modern European city, where people are encouraged to work, live, socialise and shop in the city centre."
JCD has an unrivalled track record for delivering projects throughout Cork with over 4,500 people working in completed JCD developments in both Cork City Centre and Suburbs.
The scheme has been designed by architects Henry J Lyons with specific input from London based Urban Initiatives Studio and tall buildings specialist Richard Coleman from City Designer, as well as conservation architects JCA. The development comprises three distinct parts: the restored Railway House and Terminus buildings leading onto a large public plaza; the two lower residential blocks that step up from 9 to 12 storeys and these flow into the Landmark Tower section, which is proposed to be 25 storeys.
The design, concept and location of the scheme will contribute to the city's evolving skyline with a tall building of exceptional quality and elegance that marks the gateway into the city and the entrance to the Docklands. The slender Tower will be a focal point for the existing dockland developments and those currently under construction.
The Plaza has been designed to connect and attract footfall through the site and complement the other developments that have transformed this area of Cork City; such as the Elysian, One Albert Quay and Navigation Square.
The scheme's amenities will include: a 25th floor residents' lounge and dining area which will be available to all residents of the scheme; residents' gym; public café; coworking space; games room; and a basement with car spaces, large area for bicycle parking, refuse and recycling as well as dedicated storage areas for the apartments. Provision will also be made for electric car charging points as well as GoCar facilities.
CityDesigner have designed major high-rise schemes in London and Dublin and believe that the design and slenderness of the tower would become a key landmark for Cork City as it enters a new phase of urban renewal, with the docklands becoming a new employment and residential hub that complements the historic central business district.
JCD are currently on site at Penrose Dock with 250,000 sq. ft. of Grade A office space, being delivered in one phase, which is due to complete in June next year. In addition, Navigation Square and Horgan's Quay are also delivering office space, which when all three schemes are completed and occupied have a combined capacity to accommodate over 6,500 employees. This will create a new major employment hub in the heart of Cork's docklands.
The proposed development given its proximity to both the railway and bus stations, as well as this new employment hub makes it an ideal location for a high-density residential scheme and will go some way to addressing the current lack of rental residential accommodation in the City Centre.