6 February 2021
By Elaine Murphy
elaine@TheCork.ie
Crosshaven RNLI Lifeboat crew went to the assistance of two anglers today (Saturday 6 February) after their vessel had mechanical problems, one and a half miles South East of Roches Point.
The volunteer lifeboat crew were paged at 9.42 am this morning and made their way to the 32′ angling vessel in reasonably calm seas, before attaching a tow line for the four mile journey back to Crosshaven. The vessel was made secure at Salve Marine pontoons before the crew returned to station at 11.35am.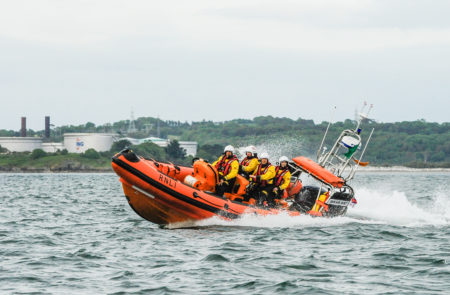 The crew on this shout were Ian Venner in command with Molly Murphy, Peter Lane and Richie Leonard. Commenting after the event, Helm Ian Venner said, 'The casualty crew did exactly as they were meant to, and called the Coast Guard as soon as they had a problem.. The engine problems meant they were dead in the water and at the mercy of the tides. Fortunately, there was only a 10 to 12 Knot Northerly wind blowing them away from the land.'
The lifeboat was recovered, washed down, refuelled and declared ready for service once more at 12.15pm.