3 August 2023
By Tom Collins
tom@TheCork.ie
A second sculpture has been unveiled in Cork City as part of the exciting new Island City, Cork's Urban Sculpture Trail, a Cork City Council project funded by Fáilte Ireland under the Urban Animation Scheme.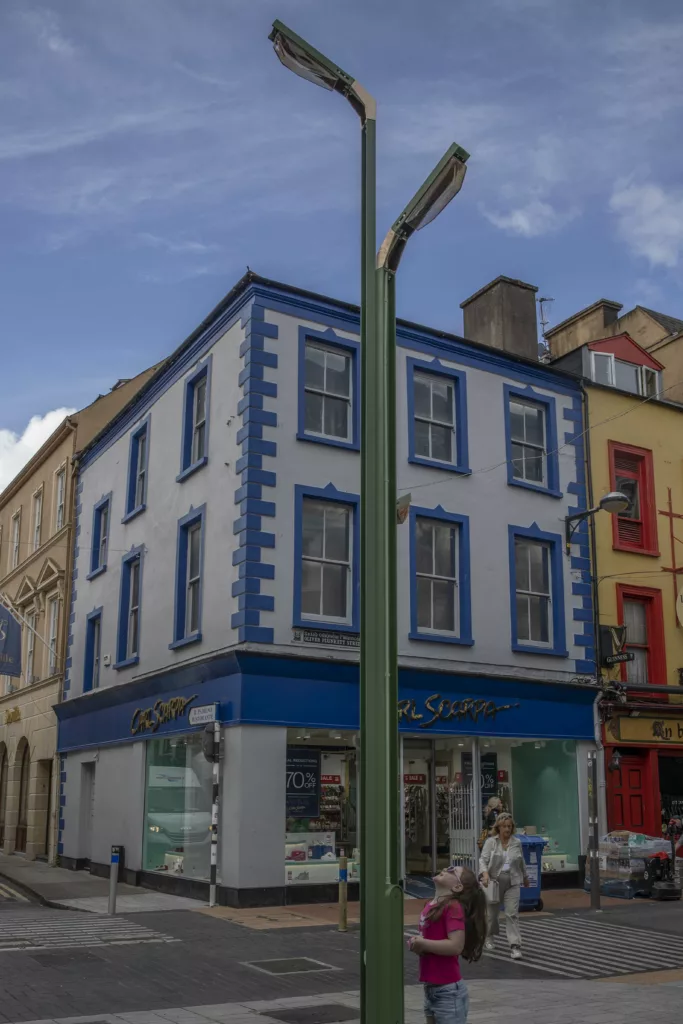 The artwork Boom Nouveau by collaborative practice Forerunner can now be viewed on Cook Street. It is part of a unique cultural trail of five contemporary sculptures that will be installed around Cork City this year to encourage locals and visitors to explore new areas of the city and bring art to life on the streets. The first sculpture 'Sentinels' was recently unveiled on Carey's Lane.c
Boom Nouveau, created by Forerunner, is located at the Oliver Plunkett St end of Cook Street. The sculpture mimics the form of a tangible everyday urban street feature – the lamppost. The name Boom Nouveau refers to the rupture of the artwork emerging from the ground, with a nod to the influence of the craftsmanship of art nouveau.
The piece reintroduces an air of mystery and possibility into our surroundings. The effect is achieved by using familiar building materials and adding in artistic elements such as hand blown glass and cast bronze.
The sculpture was created to allow historic methods of production back into the everyday, side by side with contemporary city infrastructure. Boom Nouveau is a gentle reminder that we can take pride in the way our places are made and designed.
Forerunner said, "Our initial idea for Boom Nouveau came from a dissatisfaction with how we walk through the city, heads down, rushing around, not looking up to see what's around us. We wanted to reintroduce a hand made or precious element into Cork city space. We focused on a lamppost as we like making things that are useful. The sculpture will shine a light on the city and encourage people to explore the city architecture as they navigate their way to work or guide them home."
Forerunner is a collaborative art practice. Andreas Kindler von Knobloch, Tom Watt and Tanad Aaron established the Dublin-based collective as a vehicle for the three of them to support each other's practice and interests and to collaborate on projects. The materially-focused practice looks at reimagining space and how things are made.
Lord Mayor of Cork, Cllr. Kieran McCarthy, said, "I am delighted that the second sculpture of the Island City project focuses on light and architecture in the City. Such aspects underpin the rich sense of place we have in our historic city centre. The new sculpture will stop passers-by engaging them to look up and around and to appreciate and rediscover the rich history, stories, architecture and geography the city centre possesses. My sincere thanks for the continued support by Fáilte Ireland for their continued support in exploring the intersection of the city's stories and artwork." 
Elmarie McCarthy, Tourism Officer, Cork City Council,, said, "We are very excited to see the second sculpture of Island City – Cork City's Urban Sculpture Trail – come to life on Cook Street. The trail will animate the city and its heritage with public art, creating a series of experiences to be enjoyed in daylight and after dark with points of interest for all, encouraging visitors to explore and linger longer in the city."
Commenting,  Rayane Ribeiro from Lush on Cook Street, said, "Having been in Cork since 2005 Lush are excited to see one of the Island City sculptures being located in Cook Street.  It's a street in the heart of the city-centre and we look forward to hearing and seeing people's reaction to the piece.  Art and public art is important to the fabric of any city and this trail is a very welcome addition to Cork city."
Jack Matthews, store manager, Murphy's Ice Cream on Cook Street, said 'The sculpture is a great addition to our beloved city. It's fantastic to see such positive initiatives being implemented in the city'.
Island City, Cork's Urban Sculpture Trail is a Cork City Council project funded by Fáilte Ireland under the Urban Animation Scheme, with commissioning support by National Sculpture Factory.
To learn more about Island City, go to www.corkcity.ie/islandcity or follow @IslandCityCorkSculpture on Instagram.