25 September 2023
By Elaine Murphy
elaine@TheCork.ie
Over 90,000 containers were loaded and discharged at the Port of Cork Company's (PoCC) new Cork Container Terminal (CCT) in Ringaskiddy in what was a bumper first year at the state-of-the-art facility.
The terminal, which is the result of a €94 million investment, became operational in April 2022 with an official launch on September 23, 2022. In its inaugural year, 46,932 containers were discharged at CCT and 48,282 containers loaded onto a total of 340 ships which docked at the deepwater facility. On average, 280 containers were loaded and discharged per ship.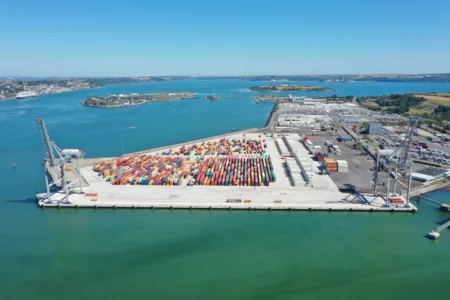 Commenting on CCT's first year in operation, Conor Mowlds, Chief Commercial Officer of PoCC, said:
"The launch of CCT last year was a hugely important milestone for the Port of Cork Company as it marked the culmination of years of significant planning, investment and development in this vital facility to ensure the port's ongoing competitiveness.
"CCT represents the largest single investment in marine infrastructure of any Irish port over the last 100 years and has enabled the port to deliver more efficient container handling facilities, strengthening Cork's position as an international gateway for trade."
The container terminal in Ringaskiddy is one of the largest deep-water, multimodal berths in the world at 13-meters deep and 360 metres long.
The official opening of CCT was followed by another significant milestone for PoCC in May this year with the launch of the Port of Cork Masterplan 2050, which will see further development of the CCT site.
Among the key points in the masterplan, PoCC highlights that the delivery of the M28 will enable further relocation of PoCC's activities from Tivoli Docks to Ringaskiddy and unlock significant port capacity in the lower harbour.
Supporting the accelerated growth of the fixed Offshore Renewable Energy (ORE) sector is another important component of the plan which charts a course to a new sustainable and secure future for the port.
For further information on Port of Cork Company and Cork Container Terminal visit www.portofcork.ie