27 January 2016
By Bryan T. Smyth
bryan@TheCork.ie
A new family-run funeral home has opened in Mayfield, it's the first in the parish of St. Joseph's, Mayfield. It also borders into the parish of Our Lady Crowned.
Behind the new venture are John Keohane and his wife Rosaleen, who opened Keohane's Funeral Home, Knights Hill in recent weeks at site of the former AIB Bank premises on Old Youghal Road.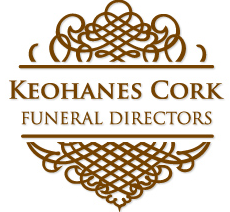 Having opened his first Funeral Home in Copley Street (across the river from the College of Commerce in the former OK Engineering Building) in 2012 John decided to expand his business following calls from residents in the North East area of the city.
Copley Street exterior

Copley Street interior

John told TheCork.ie
"Previously families from Murmont, Montenotte, Mayfield, Silversprings and surrounding area had to travel to Glanmire or the City Centre for funeral services, that is now no longer the case as they now have a funeral home serving their need in their own environment".
John said he and his wife Rosaleen offer a personalised and sensitive service to people in their time of need.
"We have an important responsibility to offer a comprehensive and compassionate service to those who have suffered bereavement and require the expertise and professionalism of a competent funeral director to attend to their every requirement in a dignified and sensitive manner".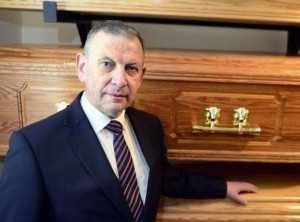 John's own father, Jerome, who's now 92, was a carpenter and worked for some time as an undertaker, while his late mother Nellie Keohane ran the Crúiscín Lán bar for a number of years on Douglas Street.
John said he spent a lot of time with extended West Cork family where he first developed an interest in the undertaking business, and notes a return to a preference of home-centred wakes and personalised funerals.
Following major renovation works at the Knights Hill premises throughout the past year, the funeral home is now open. Passer-by's are curious as to how "The Bank" is now a Funeral Home and John is more than happy to show people around his new premises.
As a small independent family owned business, John doesn't have the corporate privilege to be able to switch off his personal phone and have a rest day. It is a very sensitive trade and John needs to be available 24/7/365 days a year.
"Our commitment in Keohane's Funeral Homes is to personally serve bereaved families in a dignified and professional manner. We believe in a flexible, sincere and affordable service and we are fully dedicated to achieving this." says John, concluding that "we make every effort to follow the rituals and beliefs of all religions and none".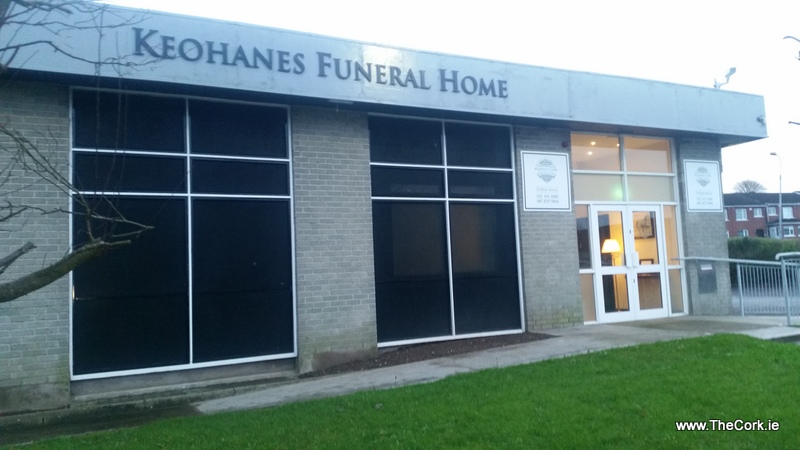 Mary Buckley, of St. Josephs' Parish said
"It is high time we had a service here in Murmont, for long enough we have had to travel elsewhere and now we have a funeral home locally", quickly adding "mind you I don't want to be heading there anytime soon myself!".
"It's great to see investment in our area again; there was a fear that the buildings vacated by the banks would be left idle" said AnnMarie McCarthy from Lotabeg adding "I'm glad to see them re-opening and I wish them well in their venture" in reference to the new funeral home and the purchase of the old Permanent TSB bank on Iona Road, Mayfield by Cormac O' Connor, who intends to open an new butchers and delicatessen.
Recently, conditional planning permission was granted to Jerh. O Connor & Sons Ltd. of Coburg Street to build a new funeral home within a hundred yards of Keohane's Funeral Home. Parishioner Geraldine Wilkinson jests "it's like waiting for a bus, and then two arrive at once" Geraldine continues "considering the parishes have had a need for a funeral home for so long, with a church here since the 1880's, it is certainly raising a lot of eyebrows that a second funeral home is planning to open within such a short distance of Keohane's, in such a short time".
Keohane's Funeral Home is one of a number of independent funeral homes to open in Cork in recent years. Coughlan's Funeral Home opened on Shandon Street in recent years, serving the north side of the city, located at the former Terence O' Connor Funeral Home.
Not many people like to make funeral arrangements because they don't want to touch on the subject, but sooner or later we all have to deal with it.
Keohane Funeral Services can be contacted on 021-4311000.