28 January 2016
By Tom Collins
tom@TheCork.ie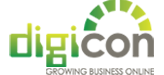 Ireland's biggest digital conference for SMEs who want to learn how to grow their businesses online by unlocking the power of digital will take place at City Hall, Cork on April 7, 2016.
The first DigiCon event, sponsored by Three, brings industry experts and leaders of the global digital economy together at City Hall, Cork on Thursday, April 7, 2016. This is the first in a series of annual regional events.
The aim of DigiCon is to provide small and medium business owners and employees with the knowledge to drive their businesses forward, through the delivery of real and relevant information from experts in the online space.
DigiCon 2016 is a fantastic opportunity for the business community in Cork and the wider Munster region to learn from leading brands including Google, Facebook, YouTube and PayPal, how to attract new customers, increase sales and build their profile in a cost effective way.
The Irish SME sector comprises some 200,000 active enterprises and accounts for
52% of total employment. However, while 63% of Irish SMEs have a website, a staggering 91% cannot process sales online.
"The Internet has completely changed the way business is done and the constantly evolving technology means that many small to medium businesses are struggling to keep up. Of the estimated €6bn spent online annually by Irish consumers, 60 to 70% goes overseas. We want to bring some of that spend back into the SME sector and open small business in Ireland up to a global market," said Michelle McDonagh, DigiCon Event Director.
The conference organisers are expecting an audience of 1,000-plus to attend the event which is aimed at SME's, marketing and PR executives and managers, micro-enterprises, start-ups and anybody with an interest in digital media.
"Maybe you have a website or Facebook page, but don't know how to maximise them to attract customers and grow your business. Or maybe you already have an active online presence or successful E-Commerce site and want to learn about the latest trends and innovations in digital business," said Ms McDonagh.
Topics at Digicon 2016 include:
• Equipped to Grow — Building a Successful E-Commerce Business
• Playing the Social Game —Diversify Your Social Media Strategy
• The Digital Transformation — Boosting Your Online Presence
• Engage and Convert — How to Target Your Market
• Be Successful with AdWords — How to Plan a Google Adwords Campaign
• Optimising Mobile — The Next Big Thing
Online businesses boost a nations exports
Research undertaken for the European Commission indicates that traditional businesses with a meaningful online presence grow twice as fast, export twice as much and employ twice as many people.
"The DigiCon conference is different to other digital conferences because it will be far less techie and much more practical, with the content specifically developed for the SME sector. Many of us have been to digital conferences where we came away more confused than we went in. We will provide real and relevant information that will hopefully take away the fear and uncertainty some smaller business people feel around the online space and send them away confident, motivated and excited about the huge opportunities that this space represents for their businesses into the future," Ms McDonagh said.
Irish business people from a variety of sectors will show the audience how they are using the power of digital to successfully drive their businesses forward.
"The digital economy is everywhere. It has transformed and will continue to transform the economy, especially for SMEs. It is predicted that consumer spending online will rise from just under €6bn to nearly €13bn by 2020.The bottom line for Irish SME's is that you can't afford not to have a meaningful online presence if your business is to survive in today's economy. DigiCon will help you to develop that presence."
Dr Stephen Brennan, Director of the National Digital Strategy, who is one of the keynote speakers at the DigiCon event, said Ireland was in the midst of an online revolution and we needed to get more businesses trading online.
"It seems that many small Irish businesses do not fully appreciate the relevance of the Internet to them, and its potential to help them become more efficient, or to access new markets. For others, it is a problem of not knowing how to go about it, what they need to do, or where they can get help," he said.
Everybody who buys a ticket to DigiCon 2016 in Cork can claim a DigiCon voucher, which entitles them to a discount of up to 33% on E-Commerce, websites, apps and more with The Digital Department, one of Ireland's leading website and E-Commerce providers, and a key sponsor of Digicon.