22 February 2016
By Bryan Smyth
bryan@TheCork.ie
West Cork Labour Party TD Michael McCarthy has welcomed news that student nurses are to see an increase in their pay.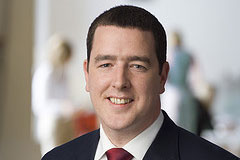 Deputy McCarthy commented: "This is good news for student nurses in West Cork. I would like to commend my Labour Party colleagues Minister Kathleen Lynch and Minister Brendan Howlin for the good work they have done to secure this pay increase.
"The increase will affect the clinical nursing/midwifery placement undertaken by student nurses/midwives in the 4th year of their degree programme to 70% of the 1st point of the Staff Nurse salary scale and will come into effect on March 1st. Because of Labour's influence in government we are now in position to improve people's pay.
"Nurses are one of the most important workers in the public sector, they play a tremendously important role in our society and this announcement shows we value their contribution. It is the latest in a number of positive measures introduced in the past few months to boost recruitment and retention of nurses. These include the first stage of pay restoration, a cut in the USC, a €1,500 vouched education bursary for new recruits, more permanent contracts, relocation payments for nurses coming from Britain, pay in return for taking on some duties from doctors and the nursing Taskforce on skills and skillmix pilot.