30 March 2016
By Bryan T. Smyth
bryan@TheCork.ie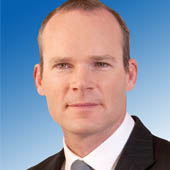 The Minister for Agriculture, Food and the Marine, Simon Coveney T.D, has reminded all dog owners that new arrangements requiring all dogs to be both microchipped and registered on an authorised database will become compulsory at the end of March this year.
Minister Coveney said "The dog microchipping programme has been rolled out on a phased basis. We commenced the process with pups last year and it is important that dog owners understand it applies to all dogs from March 2016. Widespread microchipping of all dogs brings a range of benefits including the protection of the welfare of dogs and assist with speedy identification of stray dogs and their owners". The Minister added "it will act as a deterrent for those who abandon dogs and assist in identifying marauding dogs and those that pose a threat to livestock or people."
The Minister said that many owners have already had their dogs' microchipped, particularly since the laws were signed last year. He stressed the importance of making sure all dogs are compliant with the requirements that the microchip used be ISO compliant and that the microchip details are registered on an authorised database.
There are currently four authorised databases Animark, Fido, The Irish Coursing Club and the Irish Kennel Club. All of these will issue an ownership certificate which allows owners to ensure registered details relating to their dog are correct. The certificate is also needed for transfer of ownership. Purchasers should not buy or accept a dog without a certificate. Further details regarding the authorised database can be found on the Department's website.
The Minister welcomed the fact that the cost of the implanting of microchips and data registration services has been falling, further helped by the economies of scale that the new compulsory scheme is delivering. Underpinned by state funding, subsidized micro chipping initiatives have been introduced by a number of animal welfare charities. This has helped support dog microchipping for disadvantaged persons such as the elderly or those on benefits.
Concluding, the Minister took the opportunity to remind dog owners that "Dog ownership involves responsibilities to protect the welfare of the animal. Microchipping and registration is merely one of a number of actions that any responsible dog owner should undertake. Vaccination and neutering are also important considerations in protecting and enhancing levels of dog welfare in Ireland".