23 April 2016
By Bryan T. Smyth
bryan@TheCork.ie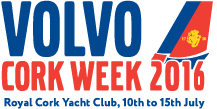 Volvo Cork Week 2016, takes place from July 10th to 15th, and primarily attracts sailors for the quality of its racing. Held on a biennial basis, Volvo Cork Week is a Grand Prix sailing event and is renowned, worldwide, for exciting and challenging racing. Bringing boats together from all corners of the world, entries have been received from Ireland, Northern Ireland, the United Kingdom and France, the USA, and Australia to date.
This year's racing also includes the new event, the IRC European Championships, which will be an event in itself, based on the platform of Volvo Cork Week.
The intention is for the IRC European Championships to be held at a different European location annually. The fact that the Royal Cork Yacht Club has been selected to host this inaugural IRC European Championship is a huge honour and reflects the esteem in which the entire Volvo Cork Week Organising Committee are held.
This year's jam-packed event will also feature the inaugural Beaufort Cup, which invites sailing teams from their associated national services to race. 50% of each team must be active in any service they represent and it is anticipated that defence force teams from a number of countries will compete and also other services such as Police, Fire, Rescue, RNLI and Coastguard.
In addition to top class racing, the fabled on-shore tented village lets all crews interact socially in a fun way, which has become one of the main ingredients in the success of Volvo Cork Week.