3 April 2017
By Bryan T. Smyth
bryan@TheCork.ie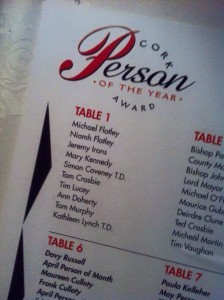 March's 'Cork Person of the Month' title has been awarded to three businesswomen and social entrepreneurs: Gillian Keating, Ruth Buckley and Caroline O'Driscoll. The women founded 'I wish' in 2014. Gillian Keating is a partner at Ronan Daly Jermyn Solicitors, Ruth Buckley is Head of ICT & Business Services at Cork City Council, and Caroline O'Driscoll is a partner at KPMG.
'I wish' focusses on inspiring and encouraging young female students to prusue careers in STEM-related fields. More than 7,000 students have participated in I Wish events in Cork and Dublin.
The events combine talks and interaction with female role models and mentors, where industry experts engage directly with the students opening up a world of opportunities to them.
Ms Keating, Ms Buckley and Ms O'Driscoll are now in with a 1/12 chance of collecting the overall Cork Person of the Year 2017 title which will be presented at a gala lunch in in January 2018.
Manus O'Callaghan, organiser of the Cork Person of the Year awards, said:
"I'm delighted to announce that Ruth, Gillian and Caroline have been acknowledged for their vision in setting up the I Wish initiative and their dedication to encouraging young female students to consider a career in a STEM.
"Despite having extremely demanding careers themselves, these three business leaders and social entrepreneurs are committed to shaping and nurturing the next generation of highly educated, highly motivated, young women."